In his Leisure Wheels series of what's in his garage, Habari Head of Content Mark Keohane, goes big in the Isuzu D-Max LS.
I must confess that during the short space of time that I had the latest Isuzu D-Max LS on my hands, I fell neatly into the category of leisure bakkie drivers.
Despite the D-Max's utilitarian history and reputation as a workhorse of a vehicle, the toughest task I had for it was a 40-minute drive to pick up and load a table and some benches onto the back.
Fortuitous that I happened to have the bakkie that week though, the convenience of not having to pay somebody else to move furniture was not lost on me, and I really do see the appeal of having a bakkie in the family, even if you aren't hitting the dirt tracks every weekend.
To cruise around quite comfortably in the orange behemoth was testament to Isuzu's upgraded D-Max model though. While it possesses all the practical capabilities of previous models, it is luxurious enough to compete with the Ford Rangers, Toyota Hilux's and Volkswagen Amarok's of the world.
The 1.9l turbo-diesel engine on the model that I drove was more than enough on the highway, and for such a big vehicle the car gets moving pretty quick on the acceleration. I was impressed by the power and the comfort of the drive on the highways, and the ease around the suburbs, given the machine would be more at home on the farm. Bear in mind that I was driving the entry level model, Isuzu offers a fully specced 3.0l, 4×4 option too.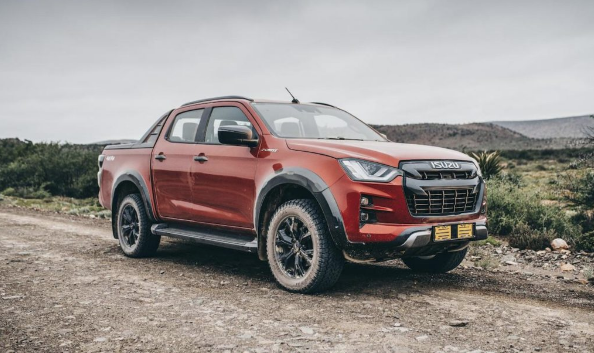 The interior is simple but neat; leather upholstery, heaps of space and a basic infotainment system that offers Apple Car Play and Android Auto. I must say though, it just felt wrong to be driving an automatic model. No matter how much more comfortable it is to stick a car into drive and just cruise, bakkies seem to beg an old-school gear shift. Isuzu do, however, offer a model with manual transmission.
Looking at the car, it's an imposing yet refined vehicle with a mean road presence. The manufacturers have nailed it in retaining the basics of a utilitarian bakkie with a more contemporary, stylish design.
I can't speak with much personal experience on how the car performs off-road but be guided by the specs here. The stats speak for themselves. For a full review on the 3.0 turbo-diesel (The D-Max's highest spec), visit carmag.co.za/d-max-v-cross/
Photo: Isuzu