A little over a year ago, the Mitsubishi Eclipse Cross arrived in South Africa. First impressions weren't that great but now a turbo model has been added to the line-up.
It's not that the naturally aspirated Mitsubishi Eclipse Cross is a bad car, but it competes in a hotly contested segment. In order to arrive at Mitsubishi's doorstep, you have to rule out a series of other Japanese rivals, not to mention both Kia and Hyundai.
And that's before we even arrive at the nomenclature issue. Many years ago, the Eclipse badge was affixed to the rear of a performance car. And even though the Eclipse Cross looks the part, a naturally aspirated 2.0-litre four-cylinder petrol mated to a CVT doesn't inspire spirited driving. With a claimed output of 110kW and 198Nm of torque, it felt sluggish even at sea level. Up at power-sapping Gauteng altitude, the combination just didn't work. You either drove at a snail's pace to achieve an acceptable fuel consumption figure, or you sacrificed the latter to sustain acceptable momentum.
Recently Mitsubishi added a new turbocharged engine to the line-up, which we hoped would improve the prospect of owning an Eclipse Cross, or, at the very least, make it competitive in its segment.
TURBO FOR WHAT?
In layman's terms, the air is much thinner at high altitude, which means the air running into the engine is less dense. This makes the process of internal combustion less effective, resulting in a loss in power.
A turbocharger compresses air into the engine, which makes up for the power loss as a result of the above.
On paper, the power outputs may seem similar but the turbocharged Eclipse's output of 110kW and 250Nm is much closer to the actual power you'll feel underneath your right foot.
And we're delighted to report that you can actually feel the difference. Within 100 metres, it's apparent the turbo is much more effective at turning petrol into power than its naturally aspirated sibling. Mitsubishi claims a zero to 100km/h time of under nine seconds, which feels about right according to our finely-tuned bum dynos.
The CVT is still the only gearbox available but it works better in this application. As we've stated before, CVTs tend to be better suited to cars with more torque.
This particular CVT comes as standard with eight pre-programmed steps to mimic an automatic gearbox. These steps were specifically chosen for this engine and they work well when you simply leave the gearbox alone. It has a manual override with paddles behind the wheel but they act frustratingly slow to any input. This Eclipse Cross may be a step closer to the Eclipse of old but it still ain't no sports car.
RIDE AND HANDLING
"It's quiet, refined and easy to drive"
We'd say the Eclipse Cross is comfortable rather than sporty but that doesn't mean you can't have a bit of fun. The front end is very responsive and keen to turn in but that's about it. The rest of the time the Eclipse Cross is the very definition of a harmonious SUV. It's quiet, refined and easy to drive. The seats are comfortable and the suspension has no trouble coping with the odd bad surface. We didn't have the opportunity to drive this particular model on gravel but previous experience with the Eclipse Cross has shown us it's a capable and comfortable gravel cruiser.
The turbo is only available in front-wheel-drive format anyway so prospective customers would likely not care what its capabilities are other than the odd gravel road.
LUXURIES
The Mitsubishi is equipped with everything you could ever need and is easy to use thanks to a logical layout of the major controls and the inclusion of Apple CarPlay and Android Auto as part of an easy-to-use touchscreen interface.
The quality is good, space is generous and the boot is of adequate size.
In fact, the only real gripe we have with this car is the odd placement of the rear spoiler/brake light combination as it runs across the entire length of the rear window and restricts rearward visibility somewhat.
SUMMARY
Has the addition of a turbo elevated the Eclipse Cross from humdrum to segment leader? No, not really, but it finds itself in a more competitive position than before. It's a fully stocked, mid-size luxurious SUV from a reputable brand. On that point, it's worth noting that Mitsubishi is not the colossus it once was. There are fewer dealers and they tend to be situated in major hubs. Something to keep in mind if you live in one of the sparsely occupied provinces.
Otherwise, it's a good deal, especially at R459 995. It comfortably undercuts most of its rivals, perhaps not in retail price but in terms of its standard equipment offering that outshines some of its competitors.
The naturally aspirated Eclipse Cross is not an easy car to recommend, but at least the turbo model can now be part of any discussion surrounding the mid-size SUV segment.
MITSUBISHI ECLIPSE CROSS 1.5 TURBO GLS
 HARDWARE
Engine: Four-cylinder turbocharged petrol
Displacement: 1 499cc
Power: 110kW @ 5 500r/min
Torque: 250Nm @ 3 500r/min
Transmission: CVT
4WD system: N/A
Driving aids: Traction control, stability control, hill start assist.
Differential lock: N/A
Tyre size: 255/50 R18
Tyre brand: Bridgestone
Rim size: 18-inch
Suspension front: MacPherson strut with stabiliser bar
Suspension rear: Multi-link with stabiliser bar
Brakes front: Discs
Brakes rear: Discs
MEASUREMENTS AND CAPACITIES
Average fuel consumption: 7.7 litres/100km (claimed)
Fuel tank capacity: 63 litres
Range: 818km
Ground clearance: 203mm
Weight: 1 530kg
OWNERSHIP
Warranty: 3-year/100 000km
Service plan: 5-year/90 000km
Service interval: 15 000km
Price: R459 995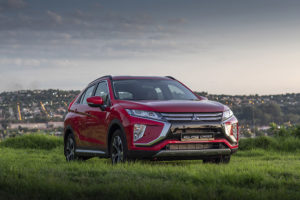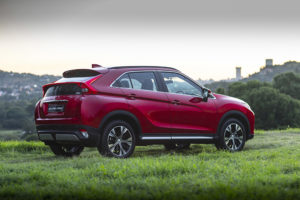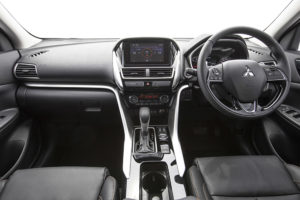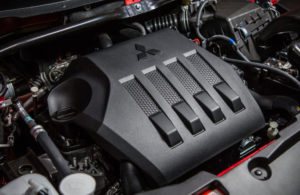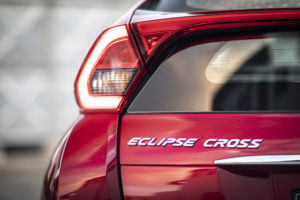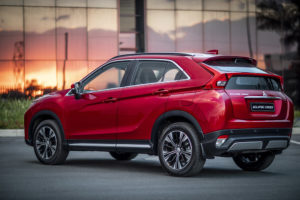 -END-