The fourth-generation Range Rover has been with us since 2012 and is due to be replaced next year. Now, in the final stages of its lifecycle, Land Rover introduced a plug-in hybrid model. Is it worth buying one now, or waiting for the all-new model?
There isn't a lot one can say about the Range Rover that hasn't been said before. It's the ultimate luxury barge, the original smooth operator. Before the Bentley Bentayga, Rolls Royce Cullinan and Lamborghini Urus, the Range Rover had a segment all to itself.
Sure, on paper it competes with a host of other vehicles, if only because it has actual off-road ability. But, historically, the Range Rover has always competed with cars like the Mercedes-Benz S-Class, BMW 7 Series and Audi A8. It has always been a luxury vehicle first and foremost. It just so happens that it can drive up a muddy slope as well.
You need only drive it 100 metres to realise why. It wafts beautifully. Everything on the inside is geared toward making every journey as comfortable and cosseting as possible. Even in Vogue specification, it comes with heated and cooled seats, some of the best leather known to man, dual touchscreens and every kind of connectivity you can possibly think of. But luxury is not about gadgets. Luxury is space, openness and just a general feeling of well-being.
The Range Rover is a sublime vehicle; so with that out the way, let's move on to the new plug-in hybrid power.
Electrified luxury
On the bootlid you'll find a P400e badge. That's the only hint you'll find with regards to the powertrain. Odd in a world where people like to brag about how green they are, but we like the subtle approach.
The P400 alludes to the combined power output of 297kW and 640Nm of torque. To get to this figure, Land Rover uses a 221kW 2.0-litre four-cylinder petrol engine and an 85kW electric motor. The electric motor is housed within the ZF automatic eight-speed transmission at the centre of the vehicle, alongside a 7kW on-board charger. The access point for the charging cable is hidden within the front grille and the prismatic cell lithium-ion batteries are mounted at the rear beneath the boot floor.
Does it work?
"Two litres don't seem sufficient for a car this size, but it does an adequate job when the battery is depleted"
There are various driving modes but for the purposes of this test, we only used two.
The first is pure EV mode, using only electricity. Land Rover claims a range of 51km, but the best we could manage was 34km. Having said that, we had the heated seats and steering wheel on. Our range was enough for a one-way trip to the office but should suffice for people who live within 15km of where they work, or travel to on most days.
The second mode was just pure default. The Landy decides what combination of petrol and electric power is best. The switch between petrol and electricity is so smooth that you don't notice it. The cabin is also so well insulated that you don't even hear the petrol engine.
Two litres don't seem sufficient for a car this size, but it does an adequate job when the battery is depleted. That glorious rush of torque is absent but it doesn't exactly hang around either. On petrol power alone, we managed a combined fuel consumption of 10.4 litres/100km. Not bad for such a big car.
Is it the one to have?
We didn't mind the plug-in as much as we thought we would. It's no harder to live with than a normal Range Rover. The only downside is the price, which currently stands at R2 491 000. A Range Rover Vogue with a V8 turbodiesel is around R200 000 less.
Not that price really matters in this segment but the V8 diesel is the best powerplant for this car, simply because it suits the nature of the beast. It offers 740Nm from low down, which gives the Range Rover that satisfying forward surge, rather than a frantic rush.
But if you're an early adopter, the P400e does a splendid job. It's the same sublime Range Rover you know and love, just with some batteries in the boot.
RANGE ROVER VOGUE SE P400e
HARDWARE
Engine: Four-cylinder turbocharged petrol/85kW electric motor
Displacement: 1 997cc
Power: 297kW @ 5 500r/min
Torque: 640Nm @ 1 500r/min
Transmission: Eight-speed automatic
4WD system: Full-time four-wheel drive
Driving aids: Terrain response, hill descent control, air suspension.
Differential lock: Rear and centre
Tyre size: 275/45R21
Tyre brand: Goodyear Eagle SUV
Rim size: 21-inch
Suspension front: Double wishbone
Suspension rear: Multi-link
Brakes front: Discs
Brakes rear: Discs
MEASUREMENTS AND CAPACITIES
Average fuel consumption: 10.4 litres/100km (claimed)
Fuel tank capacity: 91 litres
Range: 875km
Ground clearance: 297mm (off-road height)
Weight: 2 577kg
OWNERSHIP
Warranty: Three-year/120 000km
Service plan: Five-year/100 000km
Service interval: Determined by on-board computer
Price: R2 616 700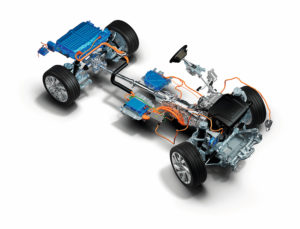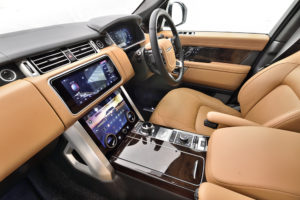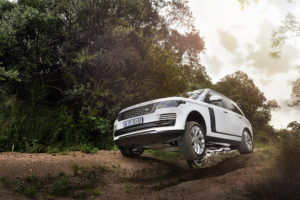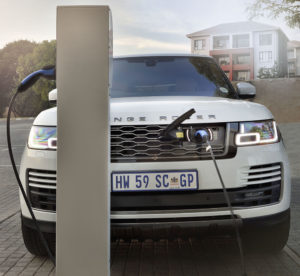 -END-