Joe public often falls into the trap of thinking you need a big, fancy SUV to do any kind of off-road driving. We set out to prove that theory invalid with three compact SUVs.
Our trio of compact SUVs consisted of the recently introduced Suzuki S-Presso, recently updated Suzuki Ignis and turbocharged Suzuki Vitara.
Suzuki has boosted the Vitara range with the launch of a range-topping turbo coupled to both a manual and automatic gearbox. At the heart of this exciting new model is Suzuki's 1.4-litre Boosterjet engine that delivers 103kW at 5 500r/min and 220Nm between 1 500 and 4000r/min.
A couple of months ago, the Suzuki Ignis received a new look and extra features making it even better value than it already was. This nimble and easy-to-drive city vehicle offers space and the driving experience and ground clearance of an SUV.
The design upgrades include an S-emblem flanked by four chromed square slots. This new grille creates a more purposeful look that visually fills the space between the front lights, creating a bright bar from edge to edge between the front fenders. The SUV styling is bolstered with functionality like roof rails, flared wheel arch extensions and 180mm of ground clearance.
Below the grille is a smooth lower bumper which incorporates fog lights, on the GLX specification and a faux scuff plate. At the rear, a similar scuff plate ensures a beautiful and coherent SUV signature look. As before, the Ignis is fitted with a peppy 1.2-litre engine that delivers 61kW and 113Nm, which combined with a kerb weight of 860kg means that it is no slouch at city or highway speeds.
GLX models feature a touchscreen infotainment system with Apple CarPlay and Android Auto built-in. This large touchscreen doubles as a reverse camera that is supplemented by rear parking sensors.
The Suzuki S-Presso is an all-new urban SUV that condenses all the best Suzuki characteristics into a compact and affordable package. The S-Presso utilises the Heartect platform along with the company's SUV expertise to offer a compact, roomy and well-specified urban SUV that is within everyone's reach. With pricing starting from R139 000, it is SA's most affordable SUV by far.
The engine is the same as that found in the Celerio. This 1.0-litre, three-cylinder offers 50kW and 90Nm thanks to its use of multi-point fuel injection and four valves per cylinder. With average fuel consumption of fewer than 5.0 litres per 100km, it is easy on the driver's budget.
Under the skin, the S-Presso rides on a combination of McPherson struts in front and torsion beams linked to the rear wheels. This system offers great damping over a variety of surfaces and helps to keep the weight under 770kg.
ROAD TRIP
DAY 1
Armed with our quiver of compact SUVs, we hit the road. Day one saw us head north from Pretoria to Bela-Bela before taking the scenic old road through the Springbokvlakte. Wanting to avoid any crowds, we enjoyed a relaxing lunch break at Moorddrift Farm, where we could indulge in our padkos under the trees.
The battle over toll fees is as old as time. The siege of 1854 between the Kekana Ndebele and the Voortrekkers was sparked by a dispute over toll fees, during which the Kekana captured one of the Voortrekkers and skinned him alive at a place thereafter called Moorddrift.
The angry Voortrekkers called upon every boer in the old Transvaal to wreak vengeance for the unfortunate man's hideous death, so the Ndebele fled to the caves in an effort to escape revenge attacks.
After lunch, we headed through Potgietersrus and onwards to Polokwane and Haenertsburg. Before arriving at our evening's accommodation, however, we just had to tackle some dirt roads. We headed down the forestry roads that pass Zwakala Brewery. These roads are rough in places and washed away on the steep bits but by keeping our momentum and being aware of where we place our wheels, we were amazed at what these little Suzukis could do.
The town of Haenertsburg was proclaimed in 1886 with the discovery of gold and is situated on the edge of the great escarpment in Limpopo between Polokwane and Tzaneen. The Iron Crown Mountain behind the town is the highest point in Limpopo and a well-known landmark.
The Pennefather Gold Mining Company consists of two trading posts and six self-catering cottages. An overnight stay here takes you back to the period of rough miners and stagecoach robbers that ruled these parts during the gold rush. We enjoyed our dinner in the quaint bookshop, avoiding the crowds. Our accommodation for the evening was in corrugated iron dwellings built with the prospecting theme in mind but equipped with all the luxuries.
DAY 2
Day two saw us awake to freezing temperatures but those don't last long in this part of the world. We headed around the Ebenezer Dam before climbing through the steep forests of Agatha as we made our way to Tzaneen and the direction of Gravelotte, the Suzukis taking it all in their stride. Before reaching Gravelotte we hit the dirt once more to visit the Leydsdorp Hotel.
Leydsdorp is another former gold rush town that is now mostly a ghost town except for the hotel, which has recently been refurbished to its former glory. The town is 11km from Gravelotte or 50-odd kilometres from Tzaneen. It developed from a gold mining camp and was proclaimed in 1890 but was virtually abandoned when gold was discovered on the Witwatersrand. A visit to this town and the hotel is a bit of a time warp as you are transported into a different era, one that was rife with swindlers and corruption… just as South Africa is today. Take a break from your gravel travel with a cold drink or a beer and imagine for a second how they lived more than a hundred years ago.
Just down the road from the Leydsdorp Hotel is one of the biggest and oldest baobabs in South Africa. Mature baobabs are naturally hollow and the 28m girth of this trunk is no different. This Baobab is over 2 000 years old and has been used as a post office, a bar and a jail through the years. The leafy resting spot under this massive beauty was a welcome respite from the morning's gravel travel.
After lunch, we continued our journey via Graskop, Sabie and onwards to Oliver's just outside White River. But not without another dose of gravel to end off the day, the forestry roads and trails of the MTO plantations providing a spectacular and fitting end to a full day's driving.
DAY 3
Day 3 saw us point the noses of the three Suzukis in the direction of Gauteng as we headed home. After breakfast, the trio of compact SUVs circled the Witklip Dam and climbed through the forests for one of the most spectacular views of the Lowveld. We left the gravel to tackle Long Tom Pass towards Lydenburg, stopped for a quick coffee in Dullstroom before tackling the rather boring 200km stretch that is the N4.
In three days we had tackled a variety of terrain from perfect Sanral highways to traditional back roads, gravel and forest paths and tracks that were worryingly rocky in places. Yet the little Suzukis soldiered on without any complaint. It really is amazing what a bit of ground clearance and tyres with a proper sidewall can do.
Do you need a fancy 4×4 vehicle to travel off-road? Certainly not. These three Suzukis proved that gravel travel is open to anyone with a sense of adventure as they transported their occupants at fair speeds and in comfort over all kinds of surfaces without any risk to damaging the vehicles.
We live in a beautiful country but very often travelers get sucked into the same old destinations. Take out a map, pick a spot and start driving. I guarantee you will not be disappointed.
Images: Andre Badenhorst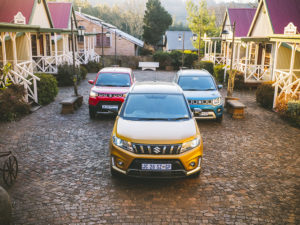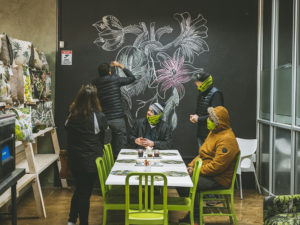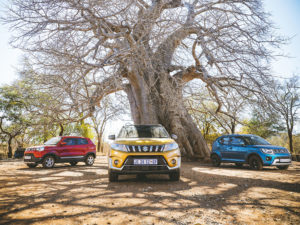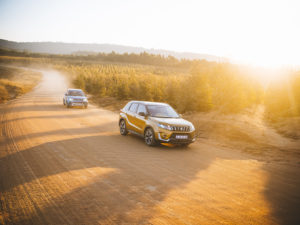 *This is a promotional post*
-END-