Isuzu's collaboration with Arctic Trucks, the D-Max AT35, is finally here. I was lucky enough to get my hands on the monstrous double-cab for a weekend.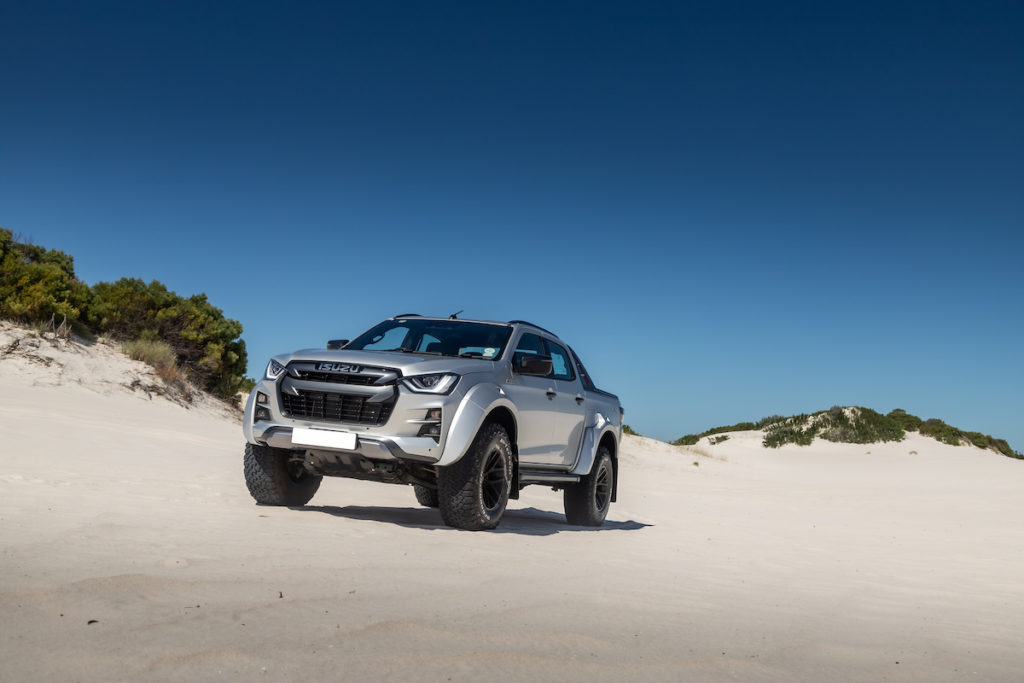 I have driven nearly every iteration of Isuzu's D-Max bakkie this year, and as I say every time, I have a massive soft spot for the distinctly diesel-powered beast that feels as though it was tuned for gravel roads rather than tar. Gravel roads being my preference,  I was hugely excited by the announcement of the AT35 earlier this year – so much so that I reached out to Isuzu asking for a priority spot on the waiting list to drive it.
Related: Driving impression: Isuzu D-Max extended-cab 3,0L  LSE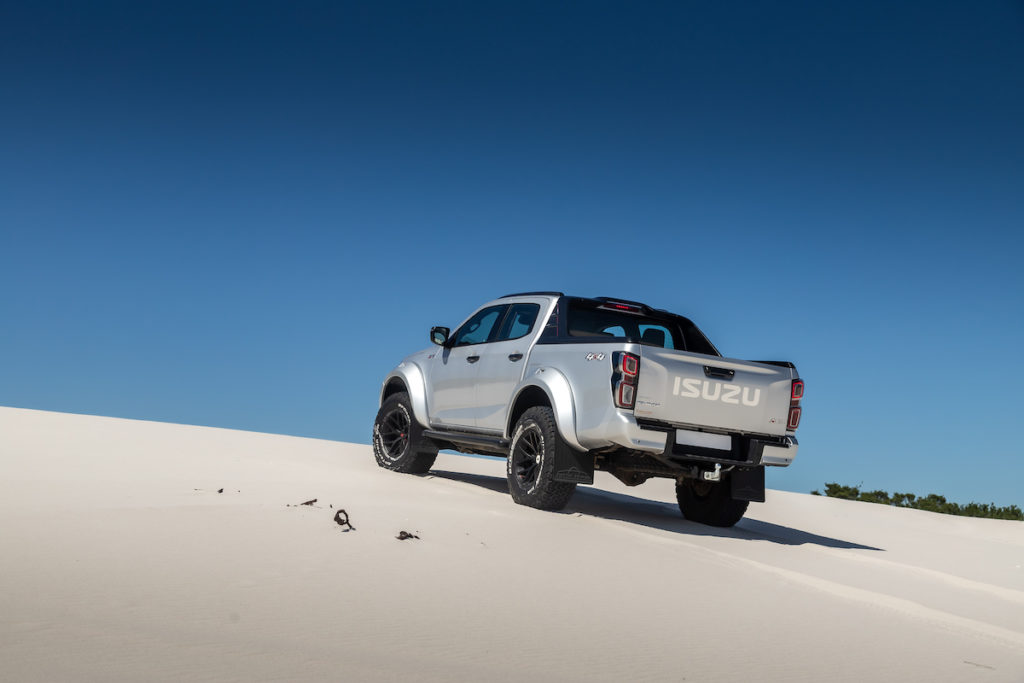 The funny thing is, the AT35 is not all that different from the previously top-specced 3,0L D-Max V-Cross 4×4. But if you are enthusiastic about off-roading, the few differences introduced by Arctic Trucks to the new D-Max, are childishly exciting. Basically what we're looking at is a beefed-up suspension and a set of 35-inch 315/70 R17 BF Goodrich All-Terrain KO2s.
Isuzu has been questioned on the limited upgrades to the vehicle when compared to Ford's Ranger Raptor. My colleague at CAR Magazine, Kyle Kock, put it quite well; "The AT35 is an extreme terrain vehicle, which is exactly what Arctic Trucks set out to do when it started fitting balloon tyres to bakkies and SUVs. The Raptor on the other hand is an off-road racer homologation special."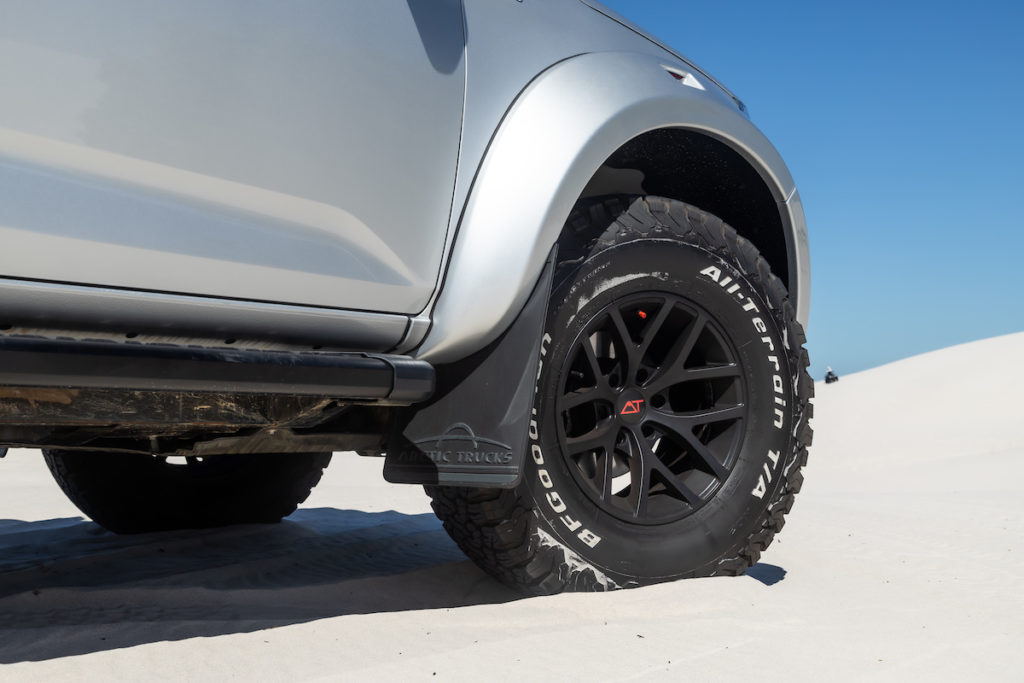 And extreme terrain capable it is. You should be able to get pretty much anywhere on the massive KO2s, specially developed lift-kit, and Bilstein dampers.  The custom suspension and larger tyres elevate the ride height of the AT35, and this added height not only enhances ground clearance but also significantly improves approach, departure, and break-over angles. As an off-road driver, you also gain greater visibility.  The wading depth has also increased from 800 mm to 865 mm.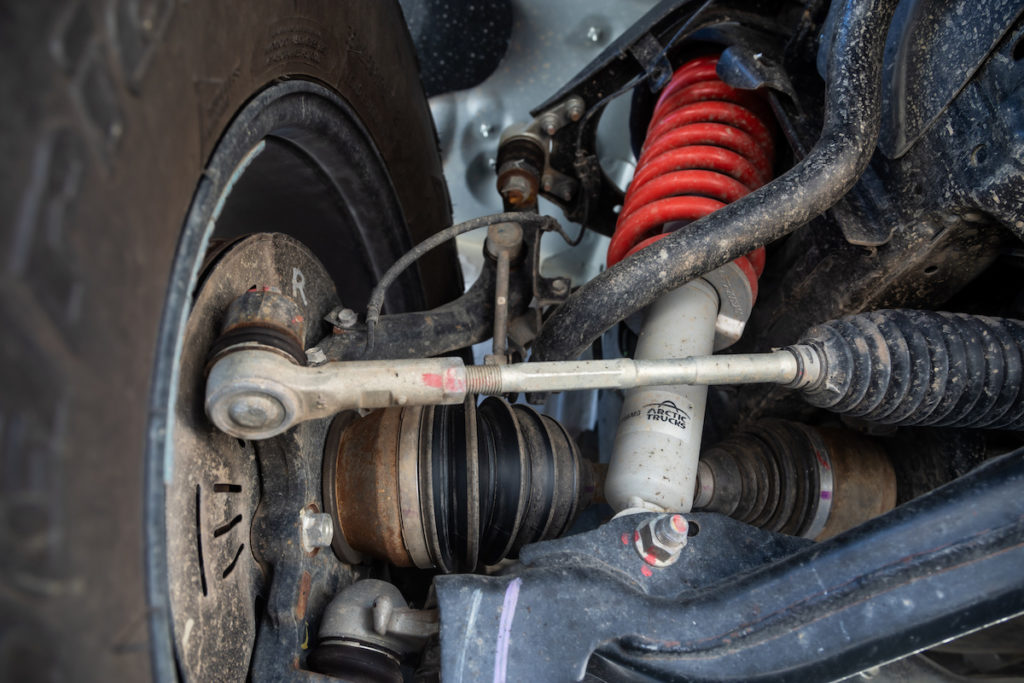 A rite of passage in Arniston is the exploration of the Waenhuiskrans Cave, which requires a little hike to reach – the length of which is determined by your vehicle. If you don't have a 4×4, you start your walk at Roman's Beach. If you do, you navigate a short but pretty sticky stretch of hard rock and sand to get closer to the cave. Two bakkies got stuck the day my partner and I decided to make our mission to the cave. We breezed through to the parking without even lowering the tyre pressure. But just for safety, rear-diff lock and low-range engaged for the short drive – two systems that functioned as well in the AT35 as they did on the standard D-Max, which I have taken through All Terrain's off-roading obstacle course with ease. Take a look below.
Related: All-Terrain training is a must for the aspiring off-roader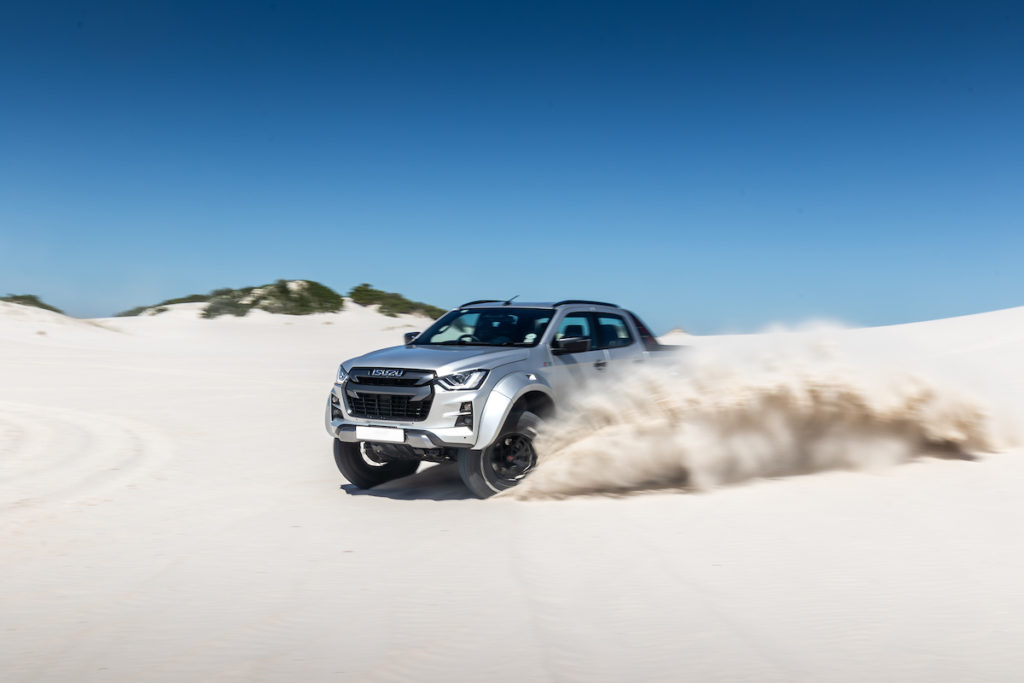 Inside the bakkie, the leather-clad cabin is decorated with AT35 logos, embossed on the headrests, gearshift, and floor mats, while the luxuries remain the same in the AT35 as the highest-spec D-Max; a 9.0-inch touchscreen infotainment system, compatible with Android Auto and Apple CarPlay, a convenient wireless charging pad for smartphones, and a comprehensive safety specification. While Arctic Trucks is not in the business of upgrading speakers or infotainment systems, I thought that Isuzu would have made a few updates to their standard offering, given the price tag attached to the AT35.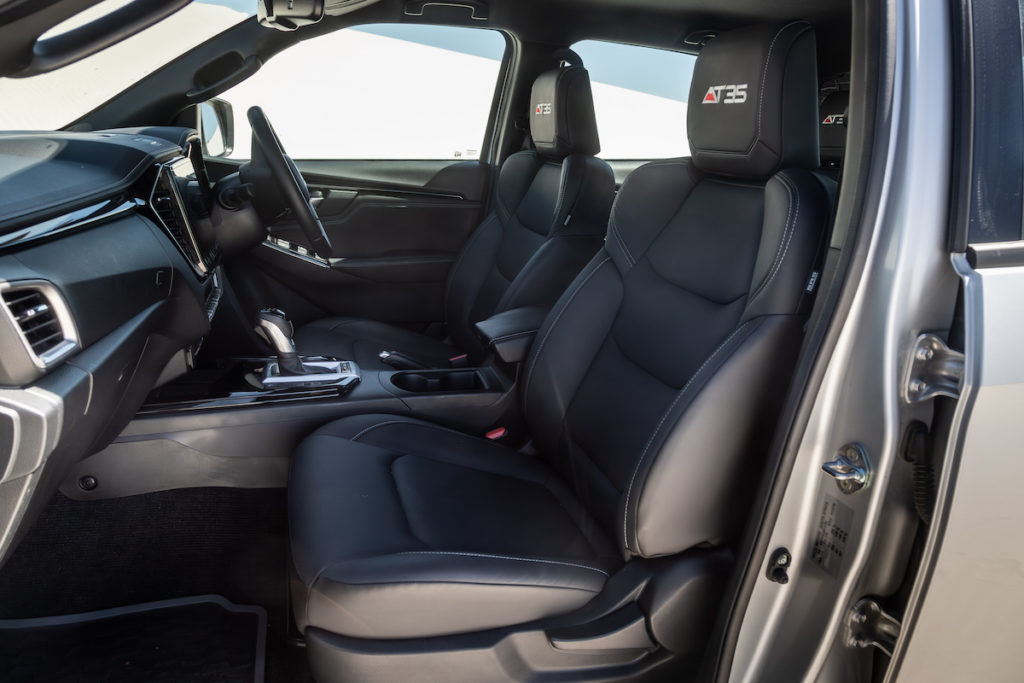 On the road, any difference between the AT35 and top-of-the-range D-Max V-Cross is negligible. The AT35 draws power from the same trusted – albeit agricultural – 3.0-liter four-cylinder turbodiesel engine as the other variants in the D-Max lineup. This engine generates 140 kW at 3,600 r/min and 450 N.m of torque between 1,800 r/min and 2,800 r/min, with power transmitted to all four wheels through a six-speed automatic transmission featuring shift-on-the-fly technology, allowing easy transitions from rear-wheel-drive to high-range four-wheel drive. 
So from an engine and transmission perspective, the AT35 was exactly what you experience in any D-Max, but surprisingly the upgraded suspension and tyres made no notable difference to drive quality or experience, outside of the feeling that you are sitting even higher than you do in a normal double-cab.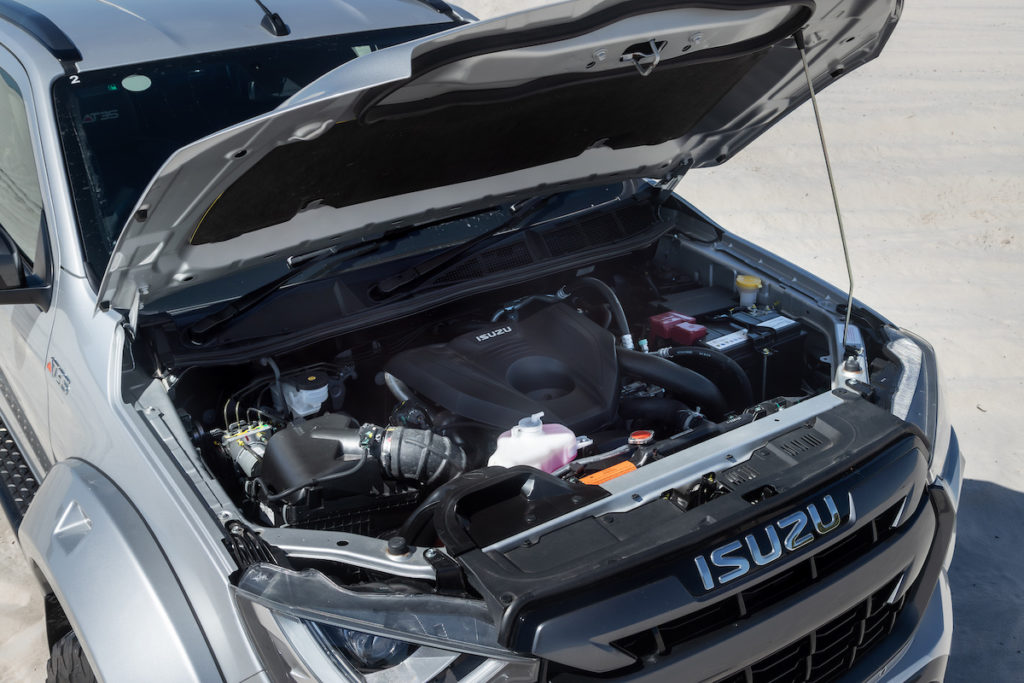 What was surprising was the fuel consumption. We drove just under 400km, from Cape Town up to Arniston and back. We also did a few short trips around Arniston and took the off-road drive to the cave, where we drove up and down the rocks shooting footage. The fuel consumption read 8,9L/100 km by the time we got back, having managed the whole trip on three-quarters of a tank, with the petrol light dinging 15 minutes out from Cape Town. Isuzu claims 8,6L/100 km, and the figure I returned was a pleasant testament to their engineering.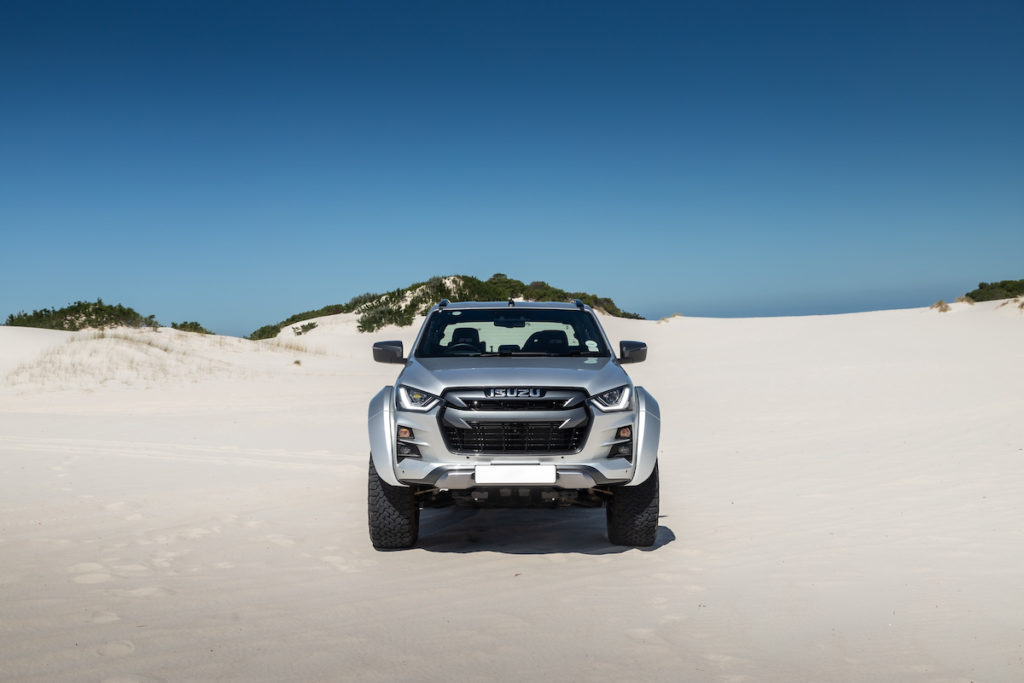 I loved driving the D-max AT35, and while that love is coloured by a bias for rock-crawling, Arctic Trucks have done what is expected; they made the D-Max into an indestructible off-roader. The AT35 will find its place in the market among those looking to spend less time on highways and more time making overland crossings, for those off-road enthusiasts willing to pay top price for capability, reliability and efficiency.
Isuzu D-Max Arctic AT35 Fast Facts
Price: R1 120 620
Engine: 3,0-litre, turbodiesel, four-cylinder
Power: 140 kW at 3 600 r/min
Torque: 450 N.m at 1 600r/min
Transmission: Six-speed automatic
Driven wheels: Selectable four-wheel-drive
Braked towing capacity: 3 250 kg
Service plan: five years/90 000 km