By Narina Exelby and Mark Eveleigh
Although it's the only town on Limpopo's beautiful Waterberg plateau, Vaalwater is a blink-and-you-miss-it sort of place. That said, there are a few places in town where you can break your journey or have a meal before you head back home – we checked out three of them.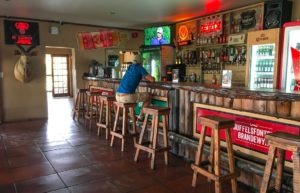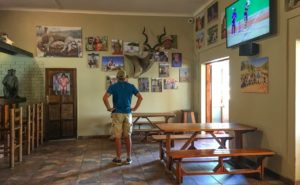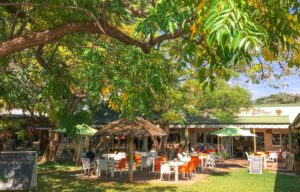 Seringa Café
This daytime café is a lovely spot for a post- or pre-roadtrip bite to eat. Sit outside in the shade of a huge seringa tree and enjoy anything from healthy breakfasts to cakes, light meals, burgers or a beer. Be sure to take a look at the Black Mamba next-door, one of the loveliest souvenir-type shops we've seen in ages. If you're going to be self-catering while in the Waterberg then Seringa Café is a very convenient place to stop, as it's in the same small complex as Spar. There's a petrol station right there so you can fuel up before you leave, too.
Open: 8am to 4pm, every day
Address: Corner of R33 and R517, Vaalwater
Vaalwater Hotel
Locals say that over the years the Vaalwater Hotel had become quite neglected, but the pub/restaurant recently went through a refurb (the rooms were yet to be renovated when we visited in mid-April) and it's once again becoming a popular choice with locals, hunters in particular. "Where legends meet" the hotel's merchandise promises. Expect hearty meals that include steaks, burgers, pasta, salads and breakfasts too. For all the hunting-related memorabilia that covers the walls from floor to ceiling (sensitive travellers, be warned), it's surprising that the only venison on the regular menu is a venison burger. There's pool table inside, a TV tuned to the sports channel and a jungle-gym outside for the kids.
Open: 9am to 2am Mondays to Saturdays; 9am to 6pm Sundays
Address: R33, Vaalwater
Hunter's Hide
We stopped here for lunch, but can imagine that this cosy pub has a very festive vibe in the evenings. Music on the lunchtime playlist included a good selection of boere liedjies, and some evenings there's live music here too. Tables inside and outside (with a jungle-gym for the kids, too – although no kids allowed in the pub). The large menu includes pizzas, burgers, platters, steaks, starters and light meals. Hunter's Hide does take-away, too.
Open: 8am to 11pm (kitchen closes at 9pm)
Address: R33, Vaalwater
Pictures: Narina Exelby and Mark Eveleigh