From Gauteng to Gqeberha, through pot-holed roads and treacherous mountain passes, Oliver Keohane reviews Ford's next-gen Single Cab Ranger.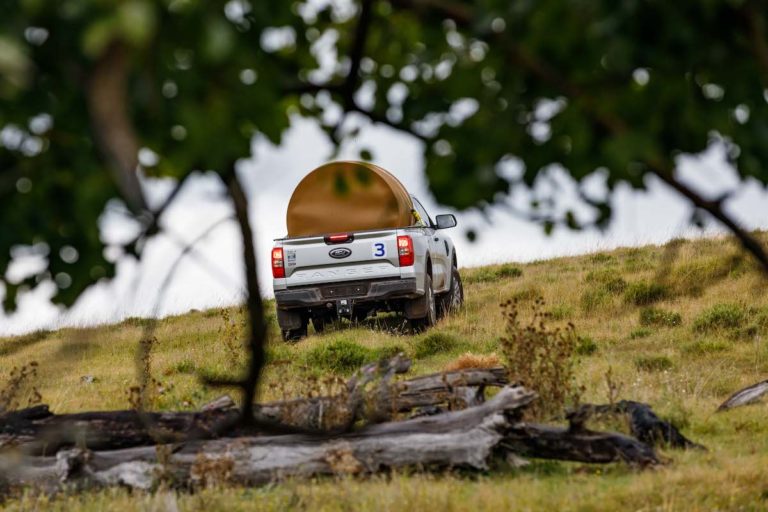 With all the hype over the new Raptor hitting South Africa, you can't blame one for missing the other exciting news that comes courtesy of Ford in 2023. Let me enlighten you; for the first time in 11 years, Ford has done a whole-scale launch, introducing to South African markets numerous iterations of their Single Cab and Super Cab models to complement the new Double Cab options available.
The historical work-horse of the fleet, it has been a while since the trusty Single Cab received some love, but in 2023 we have a face-lifted, technologically-tuned-up, beautiful beast hitting a work-fleet or farm near you to offer a superb meeting of utility and technology in the entry-level market.
Over the course of three days, Ford South Africa took us on a trip from Gauteng to Gqeberha to test out the new Single and Super Cab models that are hitting South African showrooms in March. 15 Vehicles of different iterations – more on the various options and upgrade packs later – took on this trip of roughly 1500km. The cars, much to my delight, were not only put to the test at high speeds on the highway, but also asked to crawl through rocks, mud and water in a drive that gave a very comprehensive indication of the capability of Ford's new offerings.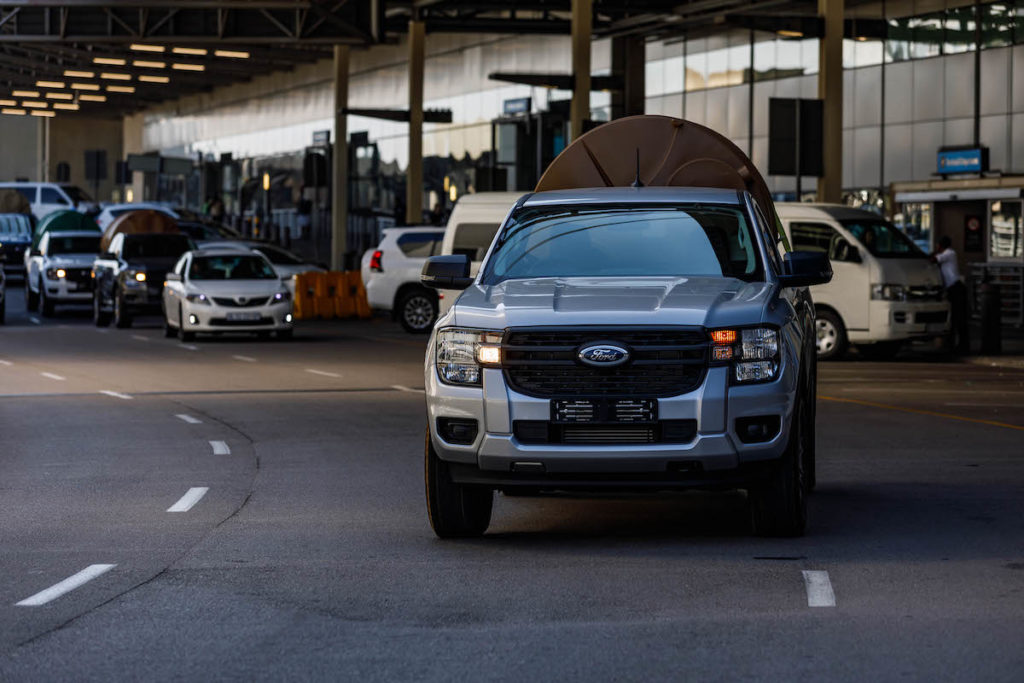 My first impression as we navigated our Single Cab 4×4 – JoJo tank strapped tightly to the load bed – through Joburg's early morning traffic and hit the first stretch of open road was "wow,  this thing motors". It motors smoothly. I know a single cab's primary intention is not to clock breakneck speeds, but the ease and pace at which our car moved up through it's six gears and and kept a rapid cruising speed simply has to be commented on. All the new models come kitted with Dynamic Stability Control incorporating ABS and Load Adaptive Control, and the presence of these systems could be felt. There was little to no sway and the suspension handled the highway – and later on the pot-holed roads and dirt tracks – with ease.
Related Review: Revel in the Raptor Revolution
The engine options available in Ford's new offering include an inline-four cylinder single-turbo 2.0L diesel, as well as a bi-turbo variation. The bi-turbo is reserved for the Super Cab 4×4 and is also paired to a 10-speed automatic gearbox. My ride for the first (and third) day was the former. The Single-Turbo, paired to a six-speed gearbox (optional in automatic or manual transmission), pushes out 125 kW and 405 N.m and my co-pilot and I managed to push the speedometer up to around 170km/h. All within safe stretches of road, let it be noted. The 2,0-litre Bi-Turbo engine is paired to a 10-speed automatic transmission and sees a solid jump in power, with an output of 154 kW and 500 N.m. However this engine remains exclusive to the Super Cab 4×4 models, with XLT or Wildtrak trim levels available.
The Single cab can be bought as a 4X2 or 4X4, and while all the highway driving was done in 2H, the 4H option was a comforting addition when coming down the dirt roads as we exited the Katberg Mountain Resort on the final day of our journey. You can read more on the gruelling Katberg Mountain Pass in my Extended Cab review, which comes out next week. A dial just beside your left leg allows you to easily rotate between 2H, 4H and 4L, and is accompanied by a rear diff-lock button that comes standard in all the models, as well as Traction Control and Hill Descent Assist buttons.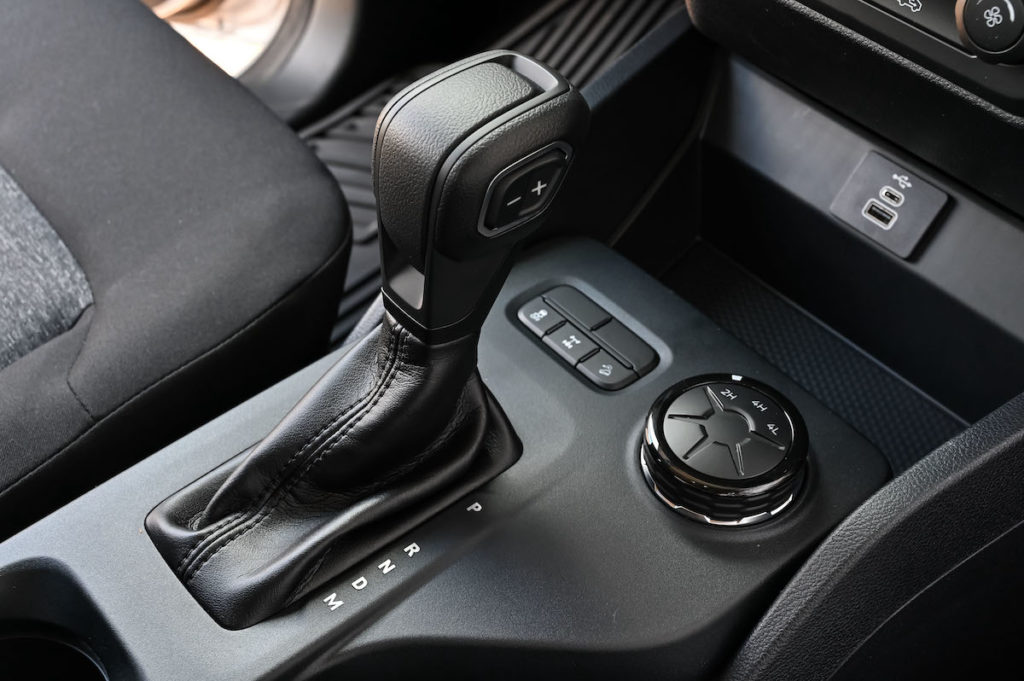 There are six upgrade packs on the XLT series, and if you find yourself slightly confused by the tiny variations to each vehicle, you're not alone. There are some marginal differences and some pretty big ones, depending on which package you put on your Ranger. For instance, the Super Cab we drove on day two was much prettier inside, with leather finishes, a Dual-climate control system, Lane-Assist and so on, but it was only a rear-wheel drive. Possibly just preference, but I would sacrifice the frills and take a four-wheel-drive bakkie at it's most basic over a rear-wheel one with leather seats and lekker aircon. Depends where your priorities lie…
To this point however, Ford have killed it when it comes to allowing the buyer a quality cabin experience at every price-point and iteration. The most basic Single Cab still possesses the distinctive new portrait-style infotainment system. Though the size varies between a 10,0-inch unit in the XL and a 12,0-inch one in the XLT and Wildtrak, the guts of it remains the same. Ford's new SYNC® 4A is a notable upgrade, and comes standard with Apple CarPlay and Android Auto. The digital instrument cluster behind the wheel was also a nice touch, customisable in even the entry level Single Cab and not limited to an analogue aesthetic (though the option is there to change it to look as such). The cabin was also impressively quiet, considering that bakkies have historically  – and to this day with some brands – been distinctly tractor-like to drive.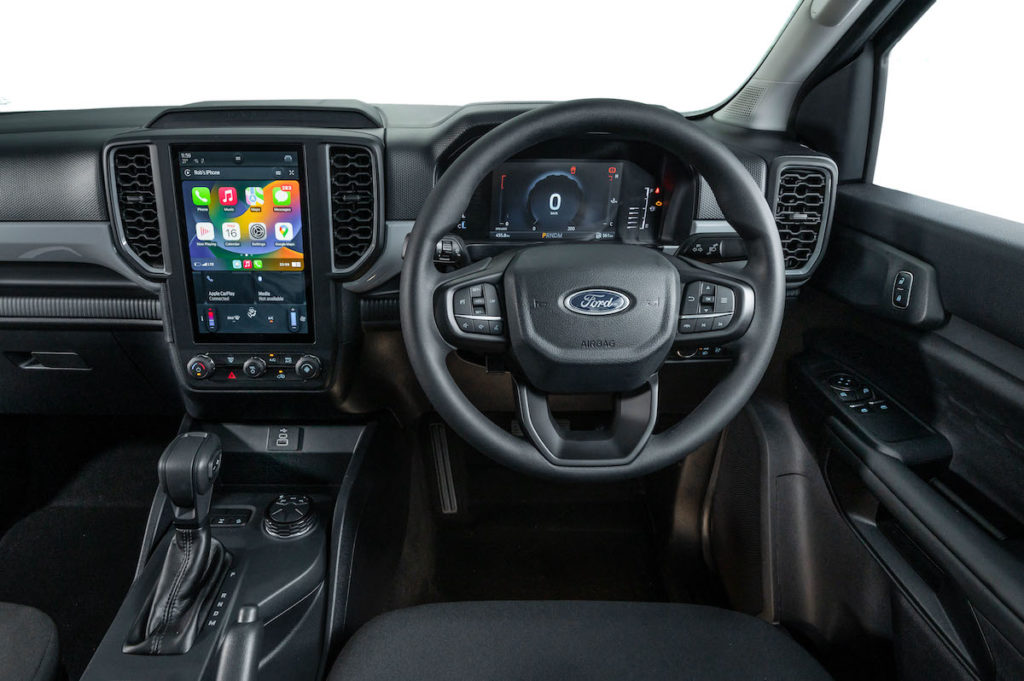 Bear in mind that Ford's newest Single Cab is marketed and generally purchased as a "workhorse", so you could argue that all the technological niceties and on-road performance capabilities aren't fundamental to the buyer of this car. But, the essentials that the buyer is looking at are all catered to with equanimity, so the upgrade to comfort and tech are basically a beautiful bonus. The loadbox length on the Single Cab measures 2 305 mm while the capacity spans from 964 kg to 1 186 kg, depending on the model. The car can tow up to 3 000kg, and this was put to the test (somewhat) when a Single Cab towed our Extended Cab – albeit lighter than three tonnes – out of some deep mud on day two.
Between myself and my partner for the trip (#DozerDrives), we racked up over 1000kms just in the Single Cab, going through rush-hour traffic, the pot-holed Eastern Free State and various dirt tracks throughout. That's a fair amount of time to get a feel for a car, in various conditions. The feeling was good. I was impressed with Ford's new Single Cab, across the board, and my qualms are as minor as the fact that our Single didn't have dual-climate control or fitted sidesteps. I think that says something.
Next-gen Ranger specifications and variations at a glance:
Single Cab XL options:
2.0L Single Turbo diesel:
125 kW & 405 N.m
Choice between 6-Speed automatic or manual transmission
Choice between 4×2 or 4×4
Super Cab XL options:
2.0L Single Turbo diesel
125 kW & 405 N.m
Choice between 6-Speed automatic or manual transmission
Choice between 4×2 or 4×4
Super Cab XLT options:
2.0L Single Turbo paired to an automatic transmission (4×2)
2.0L Bi-Turbo paired to a 10-speed automatic transmission (4×4)
Super Cab Wildtrak:
2.0L Bi-Turbo diesel
154 kW & 500 N.m
10-Speed automatic transmission
4×4