Leisure Wheels and CAR Mag took to the dunes in the latest Land Rover Defender X-DYNAMIC, alongside a recent ancestor, in the form of a 2013 Defender TD90.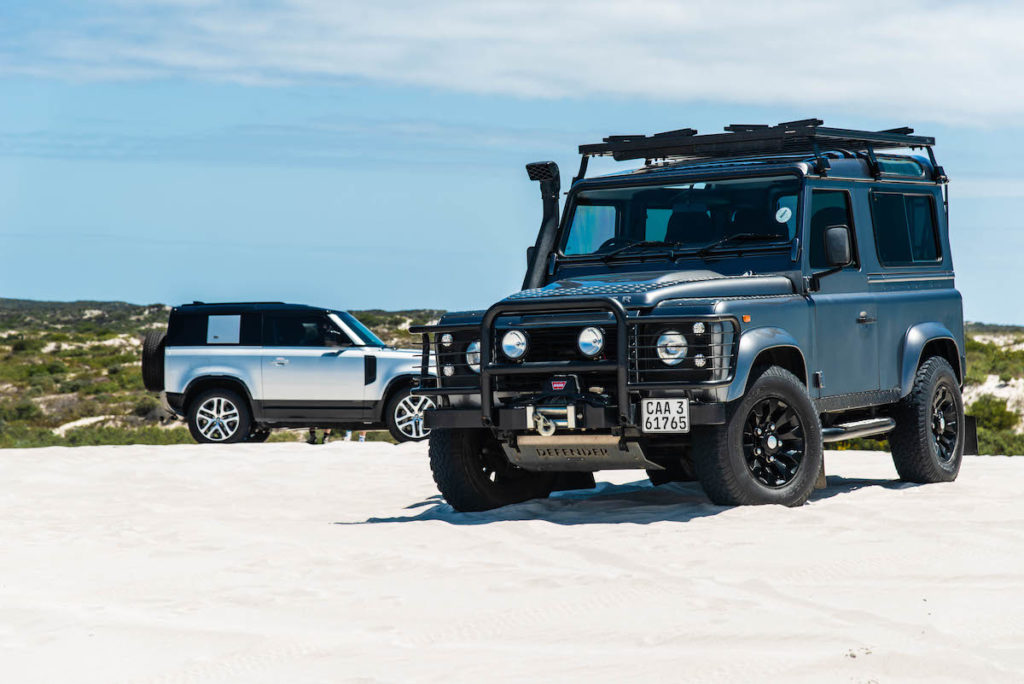 In with the old, in with the new. When it comes to the Land Rover Defender, comparisons between the most modern luxury off-roading machine and its rugged and unchanged predecessor are foolish. There needs to be appreciation for both vehicles, and an understanding that there is still room for both.
If the story of the old Defender tells of a rich history of off-roading, the tale of the new Defender promises unseen journeys and ground-breaking technology. The two vehicles share a history and a motive, but they are of two generations and as such are markedly different cars. Nevertheless, you are safe in either should you undertake an off-roading adventure.
Since the first Series Defender was released in 1948, the vehicle remained largely unchanged until its final iteration, 68 years and over two million models later. Late 2019, the new Defender was released. The car presented as a classy contemporary conceptualisation of its iconic predecessor, very clearly taking inspiration from many of the original design elements, while also managing to hit the aesthetic mark of a modern-day luxury SUV.
Related: Land Rover Defender Works V8 Trophy
While the old Defender is an off-roading beast, the specs are incomparable to the new model. The 2013 TD90 we took onto the dunes has a four-cylinder 2.4L engine that pushes out 90kW of power and 360Nm of torque. You have a 6-speed manual transmission and a low-range gearbox with locking differentials. Look over to the X-DYNAMIC edition cruising along beside, and its powertrain consists of an 8-speed automatic transmission powered by a twin-turbo 3.0L V6 engine that pumps out 221kW and 650Nm. Forget the various features available at the press of a button, like air-suspension, traction control, diff-locks and so on and son. It would take too long to list them all.
To have driven both machines is a privilege, but to drive them is to realise that they are fundamentally different vehicles, both of a different age, and what they share is a name, a history and an intention for travelling off the beaten track.
All images taken by @whiteknuckleadventures