Breaking news from the world of Toyota Australia is details for the new 2021 Toyota Landcruiser Prado. We have it on good authority that official news for the South African version will be communicated at the beginning of October, with the new 2021 Prado set to arrive at the end of October 2020.
It's relatively safe to assume that what Australia is getting will be our model, so consider these details as a preview of what might arrive. The only features that we often don't get exactly as other markets are technology-related. Although we have seen serious connectivity upgrades from Toyota South Africa in the new Corolla, and the myToyota app. Looks-wise the 2021 Prado hasn't changed judging from the Australian Prado, and why fix it if it's not broken.
2021 PRADO HAS A NEW ENGINE
A big change is the power unit; their 2021 Prado will be powered by a new diesel engine, which we're familiar with in our current Hilux. The Prado will be shifting on from the 3.0-litre unit to a 2.8-litre diesel. There's an extra 20 kW on offer, peak power is 150 kW at 3 400 rpm, this is Toyota's most powerful diesel engine to date. Torque output jumps by 100 Nm to 500 Nm from 1 600 – 2 800 rpm. It'll have more power from the same engine than the Toyota Hilux DC Gazoo-Racing Sport bakkie.
According to Toyota AU the "extra performance is due to updates including a new ball-bearing turbocharger with a larger turbine and impeller, and improved engine rigidity and cooling, and better fuel economy through optimised pistons and piston rings, changes to the cylinder block and head, higher fuel-injection flow rate and the adoption of high-performance materials for the exhaust manifold."
Fuel consumption is a claimed 7.9 1/100km, and CO2 emissions are down to 209g/km. The fuel-tank capacity remains the same at 150-litres, 87-litres for the main tank, and 63-litres for the sub-tank. What's important is the braked towing capacity, which is now 3 000kg, our current 3.0-litre Prado is only recommended to 2 500kg. Our local Hilux with the same engine and gearbox is only rated to tow 2 750kg.
EXTRA GEAR
The Australian market will only be getting a 6-speed auto transmission, which is big news for us. This means the trusty 5-speed automatic that we get in our Prado will be a thing of the past, and having driven a Prado recently the gearbox is showing it's age.
TECHNOLOGY
The Australian press release is going on about the added technology features, and we'd like to think that we'll see them coming to our new Prado, though as mentioned before we can't be so sure about these things.
The Toyota Safety Sense system has been upgraded, the pre-collision system will be able to detect cyclists and pedestrians during the day or night. Prado's lane-departure warning system will now actively attempt to keep you in your lane. And road-sign assist is new; it'll reset the cruise control when it picks up a change in official speed.
The 8-inch touchscreen has been dropped and replaced by the larger 9-inch version with Apple CarPlay, Android Auto, and myToyota app connectivity.
Rain-sensing auto wipers have been added along with SatNav and keyless entry. There's also mention of a new Espresso Brown paint colour. Why Toyota, why do we need sparkly brown paint?
SPEC-LINES
The Toyota Australian spec-lines for the Prado runs from GX, GX-L, VX, and Kakadu.
The GX-L gets 18-inch alloys, premium sound system, auto bi-LED headlamps, multi-terrain monitors, blind-spot monitor, and rear cross-traffic alert.
Additional GX-L equipment includes side steps, roof rails, 3-zone climate control,  LED fog lamps and daylight running lamps, and rear parking sensors, and the essential cooled and heated front seats for the summer days.
The Kakadu is their range-topping Prado which gets paddle-shifters and extra comfy features.
WATCH: TOYOTA PRADO ON HENNOPS 4X4 TRAIL
MONEY
The 2021 Toyota Prado in Australia is retailing from A$59 840 – A$87 030, which at today's exchange rate is around R724 000 – R1 052 800. This is similar in pricing to what our current Prado retails at, however, exchange rates and import duties are killers, it'll be interesting to see what pricing Toyota South Africa will be able to bring it to market at.
Images: Toyota AU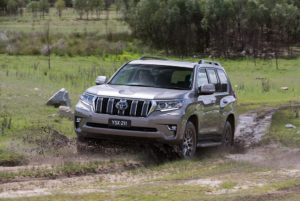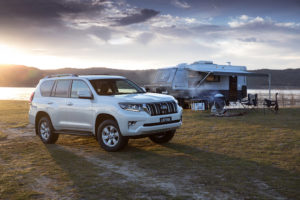 -END-