A3 Sportback + Q3 = Q3 Sportback.
Audi South Africa has introduced their first compact crossover to its hallowed halls, the Q3 Sportback. It looks sleeker, faster, and sportier than the standard Q3.
It's clear that the world has gone SUV crazy, and Audi is capitalising on that. The Q3 Sportback is the halo model for the Q3 range, built at Audi's Hungarian plant in Győr It's been labeled as their a-segment Compact Utility Vehicle. We're thinking it looks more b-segment in size.
The difference between it and the regular Q3? The Q3 Sportback is a little bit smaller. It's 16mm shorter in length, 29mm lower in height, and 6mm down in width. It's a beefed-up coupe shape, whereas the Q3 fits neatly into the small SUV box.
ART OF ATTRACTION
Credit where it's due, it's not a bad looking car. Being the halo of the Q3 range means that it gets a fair bit of trim package as standard. LED headlights are standard with the option to upgrade to the full Matrix LED headlamps. There's 10 colours for the Q3 Sportback, plus the new metallic Dew Silver paint (exclusive to Q3 Sportback). The S-line trim is standard, that's the chrome detailing on the grille, bumper and air inlets. Option the black styling package and there's extra dark accents, and gloss black finishes that make it look sportier. It'll run standard on 18-inch wheels, though can be upgraded to 19″, it's a relief to see a small SUV that's not got 20-inch wheels.
The interior is standard Audi fare that we are all familiar with. The Q3 Sportback is not using the practicality name for the sake of it, it seems to have practical features too. The second row of seats can slide forward by 130mm, the seatbacks are divided into three folding sections instead of the usual two, and the boot floor has two levels depending on how much space is needed. In standard five-passenger seating configuration, the storage space is 530-litres, expanded to it's most practical layout, and space increases to 1 400-litres. Add on the storage and luggage compartment package for nets on the seatback of driver and passenger, storage bin under front seats, luggage compartment net with LED spotlights so you can see what's happening in the dark.
ENGINE OPTIONS
The South African market has two petrol engines on offer in the Q3 Sportback, the 35 badged car is powered by a four-cylinder 1.4-litre TFSI unit that returns 110 kW, and 250 Nm, paired to a 6-speed S Tronic auto box. The Q3 Sportback 40 features the 2.0-litre TFSI producing 132 kW and 320 Nm, an extra gear is given for this model with a 7-speed S Tronic transmission.
All Q3 Sportbacks will have the progressive steering system as standard, it's sensitive when there's large amounts of lock at slow speeds making it more agile for parking lots. The sport suspension is standard too, accessed through the Audi Drive Select toggle, one of the modes within the drive modes is off-road. The range-topping Q3 Sportback 40 TFSI will have all-wheel drive thanks to Quattro, which means it'll be engaging to punt around a mountain pass and handle dirt a little easier, perfect for a weekend getaway.
NEW PACKAGE OPTIONS
Buying an Audi can be a confusing procedure with the options list. They've sought to streamline the procedure by creating different packages that will generally meet the needs of the customer in one single tick of a box, instead of multiple box ticks.
Comfort
Technology
Sport
Parking
S line interior
Black styling
Audi Q3 Sportback pricing
Audi Q3 Sportback 35 TFSI S tronic: R 693,000
Audi Q3 Sportback 40 TFSI quattro S tronic: R 737,000
Both models come standard with the 5-year/100 000km Audi Freeway plan, inclusive of all taxes.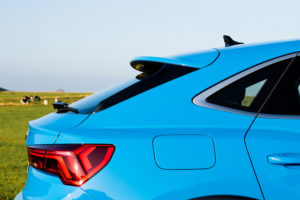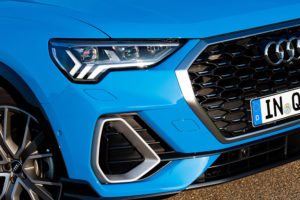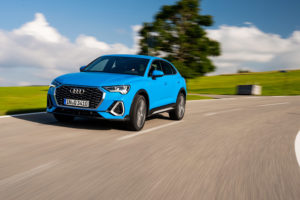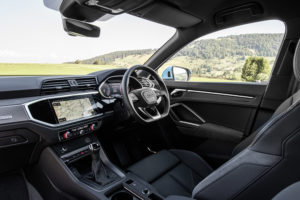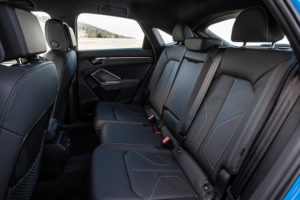 -END-