Ford has updated its popular people carrier van, the Tourneo Custom to make it more driver friendly. The introduction of a new diesel engine and six-speed automatic to the mix will hopefully attract buyers looking to travel in comfort with plenty of space.
We love SUVs though many South African's buy them primarily as practical people carriers, and as adventure vehicles second, generally SUVs never see the ruts of a dirt road. It's time we started to buy vans for the purpose of people carrying, and Ford is actively making their Tourneo Custom as easy to drive as possible fitting them with all the bells and whistles, an auto gearbox and new engine.
"The Ford Tourneo Custom is a popular people-mover that provides outstanding flexibility to suit a wide variety of applications, from busy moms and dads transporting children to school and sports matches, businesses relying on it as an upmarket executive shuttle or simply as a spacious and highly adaptable vehicle for large families," says Doreen Mashinini, General Manager Marketing at Ford Motor Company of Southern Africa (FMCSA).
ENDLESS OPTIONS
Of the Tourneo Custom's many highlights is an ability to seamlessly combine passenger car maneuverability with multiple seating arrangements for up to eight people. The two rear rows can be configured in conference format for outstanding access and enhanced interaction between passengers, or in two rows of three forward-facing seats. Furthermore, the six seats can each be folded up, tumbled, or stowed in multiple positions or removed completely, enabling customers to create limousine-like space, maximise the luggage area or meet their own special business or lifestyle requirements.
NEW ENGINE
Ford's new 2.0-litre single turbo diesel engine mated to the automatic gearbox is among the biggest changes to the Tourneo line-up. The new engine is available in a choice of two outputs matched to trim specification; the Tourneo Custom Trend derivative produces 96kW and 385Nm, while the range-topping Tourneo Custom Limited has a power output of 136kW and 415Nm. Needless to say that both engines produce a significant amount of torque, what you need when all seats are occupied.
Both engines are engineered to return exceptional fuel economy as well as low emission levels. The latter is made possible with Ford's AdBlue® technology, which uses a non-toxic urea/water-based solution to convert nitrogen oxide (NOx) emissions in the exhaust gas into eco-friendly nitrogen and water. A particulate filter then reduces more than 99% of emitted solid particulates from the vehicle's exhaust, thereby contributing to a cleaner and healthier environment.
BELLS AND WHISTLES
Available in both mid-level Trend and range-topping Limited series, the two new models also feature a completely new interior. On the Limited model, this incorporates Ford's SYNC®3 with an integrated eight-inch touchscreen, which provides significantly improved features and ease of use. SYNC®3 provides full smartphone integration through Apple CarPlay and Android Auto, including the option of using the phone's navigation apps.
Safety systems have been developed using the latest technology, including front and rear parking sensors, Lane Keeping Aid and Lane Departure Warning as well as the Blind Spot Detection System (BLIS) with Cross Traffic Alert. In order to reduce those demanding levels of concentration, Ford's advanced Adaptive Cruise Control (ACC), uses a radar system to automatically maintain a set distance to the vehicle ahead.
READ: Ford Ranger Thunder available in SA
FORD TOURNEO CUSTOM A/T PRICING
Ford Tourneo Custom 2.0L LWB Trend 6AT (auto)     from R721 300
Ford Tourneo Custom 2.0L SWB Limited 6AT (auto) from R763 200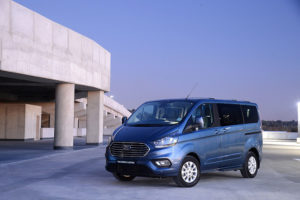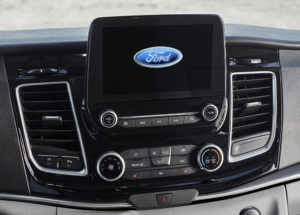 -END-