This is the Toyota Hilux Mako, named after the Mako shark. It's not the biggest shark in the ocean, but it's the fastest, highly aggressive and tends to approach new situations with its mouth wide open just in case it's sharp and pointys are needed.
And no, you can't have the Hilux Mako edition.
This special edition Toyota Hilux is just that, a special edition. Made by Toyota New Zealand the Hilux Mako is named after "the strongest, most aggressive shark in the ocean," says Toyota NZ (TNZ) chief executive Neeraj Lala, "that's what we believe we have here."
The Hilux Mako is taking aiming at Ford's Ranger Raptor, and before the comments start we know it's not exactly the same as a Raptor, it doesn't matter as this Hilux Mako looks capable and we're here for the challenge. We're going to get our popcorn ready to watch the Ranger Raptor vs Hilux Mako videos that will undoubtedly start surfacing in the next few weeks.
Based on a Hilux double-cab it's set to become the halo model for the Hilux range in NZ. It's customisations are insane, and might we add wouldn't go amiss in our market (nudge, nudge, wink, wink, cough, cough Toyota South Africa).
BIG POWER
Powered by the 2.8-litre diesel the Hilux Mako produces 150 kW and 500 Nm, which is equal to the Ranger Raptor's 157 kW and 500 Nm.
UPGRADED SUSPENSION
Toyota New Zealand told local media: "The suspension upgrade was the thing that we really needed to work on, so we've gone for a full ARB Old Man Emu suspension and shock absorber upgrade." The suspension lift adds 40mm at the front and 50mm to the rear.
It's kitted out with 18-inch Black Rhino wheels sourced from the USA, and accompanied by heavy-duty rubber of Maxxis Razr 260/60 ATs.
The front brake pads are different from the standard option with slightly larger discs, and Toyota NZ adding they've "braided the front and rear brake lines for improved feel".
GOOD LOOKS
Key features include an aggressive-looking front bumper, hoopless bull bar integrated with LED lights, Toyota branded bash-plates for the undercarriage, flared wheel arches in black cladding, and front and rear tow hooks.
The interior gets a bespoke leather-wrapped steering wheel, and leather sport seats with Mako branding.
The Hilux Mako goes on sale in New Zealand from October priced at roughly R882 000, at the current exchange rate it's not far off Ranger Raptor pricing. Watch the video below.
READ: Toyota Hilux power to increase?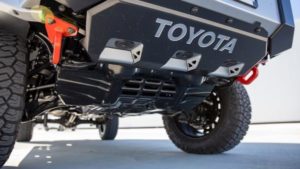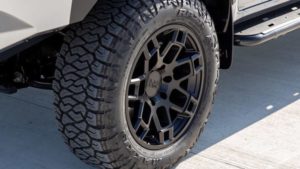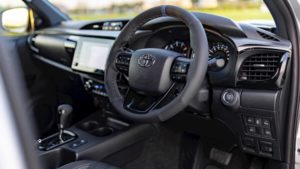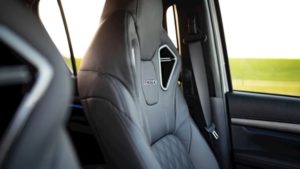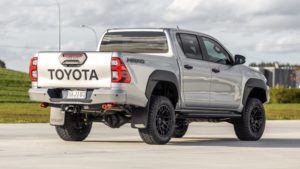 -END-