Towing is a skill you learn, it's not an instant "hey, I'm good at this" type of exercise. Reversing a trailer or horsebox is definitely up there as a special skill, and should be listed in CVs as such.
Even the most experienced towers will break out into a clammy sweat when they need to reverse a trailer in a small space with a crowd. The margin for error is so small that a little bit too much or little lock, or losing concentration and turning the wheel the wrong way, can see an easy move become a complicated one. Clearly a top-level person at Land Rover had this experience recently, and decided they needed to get cracking on how to make reversing a trailer easier.
LAND ROVER ADVANCED TOW ASSIST
As of now all Land Rover and Range Rover vehicles can be optioned with the Advanced Tow Assist feature. This feature turns the selector wheel for the Terrain Response on the centre console into a joystick of sorts. The rear view screen will show the trajectory path of the trailer with coloured guide lines, by toggling the wheel left and right it'll guide the path of the trailer in reverse. This means that the driver operates the vehicle normally and the smart system will sort out how much counter-steer is needed to keep backwards progression as smooth as possible.
According to Land Rover (we haven't tested it yet), this system eliminates the need to perform constant mirror checks, so no more needing to swivel your head like an owl when reversing with a trailer attached, and the system will sound the alarm when a jack-knife situation is about to happen.
The features below are the systems Land Rover has designed to make towing easier and safer with their cars. We've used their exact text as these features are not elements we want to misrepresent in paraphrasing:
Trailer Stability Assist
Trailer Stability Assist (TSA) is a standard feature on all Land Rovers and Range Rovers that monitors the vehicle to detect movements in the trailer and then uses selective braking to help correct potentially hazardous situations. Should TSA detect a dangerous trailer sway situation developing, it can help you regain control by gradually reducing speed, through lowering engine power and applying the brakes individually on each side of the vehicle to control the sway.
Trailer Light Test
On Land Rovers and Range Rovers with optional Electronically Deployable Tow Bars (EDT) fitted, a Trailer Light Test system will automatically check if all lights on the trailer are functioning correctly. This eliminates the need to manually walk around the vehicle and trailer to check globes are in order – which can be especially tricky when inspecting brake lights alone.
Hitch Assist
All vehicles with rear cameras and factory-fitted tow bars, either fixed or Electronically Deployable, come with a Hitch Assist function to ease the process of joining a vehicle and trailer. The infotainment screen will display a trajectory line from the tow ball directly to the trailer's ball cup, preventing the need for outside assistance or having to continuously get out of the driver's seat to check progress.
Rear Height Assist
Land Rovers fitted with either optional or standard Air Suspension, such as Discovery, New Defender and Range Rover, Range Rover Sport and Velar, can raise or lower the rear of the vehicle to make quick work of attaching a trailer. This feature takes some time out of manually winding the trailer's nosewheel height to match the tow ball and tow cup. Rear Height Assist is also handy in situations without a trailer, such as when loading groceries or dogs into the cargo bay.
Nose Load Measurement
The Land Rover Discovery and New Defender are available with a unique Nose Load Measurement System which allows drivers to easily check the weight being applied to the vehicle tow bar. These vehicles' Electronically Deployable Tow Bar hardware carry a calibrated weight sensor to gauge the load on the tow bar itself and warn of dangerous overloading.
* All of the above features are designed to work with either Land Rover Accessory or factory fitment tow bars. Some features are only available as factory fitment and are not automatically enabled with Land Rover approved Accessory tow bar installations.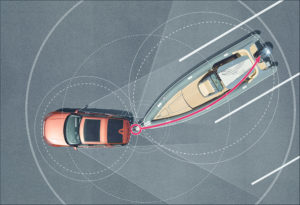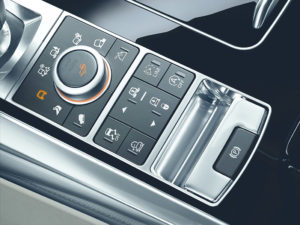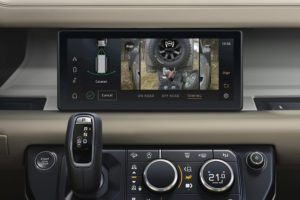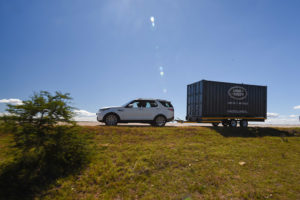 -END-