Ford's latest Raptor Special Edition heads deep into the Tankwa Karoo to reassert its title as off-road conquering hero.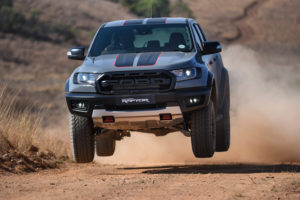 Written by Brent vd Schyff
Ahead of its replacement in late 2022, a slew of Ford Ranger special editions are being launched.
In rolls the Ford Ranger Raptor Special Edition, piercing through the dust plumes of the recently launched Ford Stormtrak. On the outside you'll find a new matte black finish on the door handles, bumpers and wheel arches. There's a Sports hoop from the Wildtrak and a lockable roller shutter system from Ranger Thunder. Then there are the racing stripes which don't add an extra five kilowatts but are great for the dad jokes. Nothing mechanical has changed and that's OK. Why fix something that isn't broken? On the inside, you'll find red stitching replacing the blue and raceway grey instrument panels as well as a healthy dose of suede to increase grip during those technical driving sessions.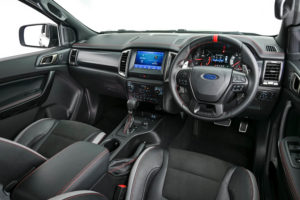 If you need a refresher as to why the Ranger Raptor is so special, here goes. 51 mm taller ride height and 150 mm wider front and rear track and a 2.3mm thick bash plate which won't leave you cringing when thrashing through that thick undergrowth. Fox shocks, 332mm front discs, Ford's 2.0-litre bi-turbo diesel engine delivering 157kW of power and 500Nm of torque and a 10-speed auto gearbox delivering to the rear or all four wheels, depending on the drive mode.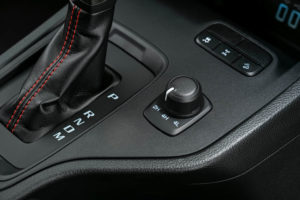 On launch we were first sent on the Waboomsrus 4×4 trails, located just outside the Huguenot tunnel, to test out the mountain climbing abilities. Despite the medium grade trails we experienced, the Raptor SE easily overcame the challenge. The rock crawl and hill descent feature, nothing new, reaffirmed that this vehicle will turn any hopeful 4×4 enthusiast into a proper adventurer at the flick of a button.
From there it was all about the off-road speed capabilities of the Raptor as we split through Ceres and entered the Tankwa from the R303, before ascending a series of switchbacks and dropping onto the R355, the longest dirt road in South Africa. The Raptor's general grabber AT3 tyres make light work of the trail's tyre shredding shale.
Despite the critic's mumbling of "Yes, another sticker job", I'm reaffirmed that this has the same Ranger Raptor capability as before but under a new guise, standing just that bit more out of the crowd than before. What's interesting to note is that between the release of the original Raptor and the Special Edition, the competition hasn't managed to dethrone the Raptor. Casually eating up off-road terrain to the point where you could easily be doing 170km/h off-road, no fuss, is a big deal. Whether you're willing to fork out the extra cash over the standard Raptor, we'll let you decide.
Ford Ranger Raptor Special Edition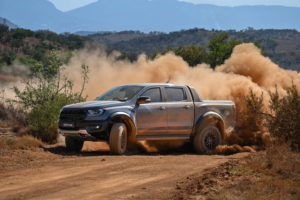 Power: 157 kW 500 Nm
Transmission: 10-speed Automatic
Ground Clearance: 283 mm
Towing Capacity: 2500kg
Price: R965 300
Likes
Still the same capable off-road machine
Safety assured through the confidence instilled
Comfortable interior with plenty of space
Transmission is smoother compared to other bakkies
Dislikes
For a vehicle as capable as this it bothers me that there aren't grab handles for passengers in the rear
Price tag R40,000 over the standard Raptor
Lack of extra charging points