Written by Narina Exelby and Mark Eveleigh
To many travellers, a trip to northern KwaZulu-Natal means heading straight to Phinda, Hluhluwe-Imfolozi Park or Sodwana Bay. That part of the province has some fine game reserves and epic dive spots, this is true, but we were curious to explore what else is on offer. So to kick off our research, we phoned a friend who knows the area well, then programmed four very different locations into the console of our Ford Ranger and, after a scenic drive from the KZN Midlands to Ballito, headed north. On our itinerary: a country inn, a house boat, a tented lodge and a coastal forest hideaway.
The country inn: Ghost Mountain Inn, Mkhuze
To experience the best of Zululand, you really should stay inside one of the parks – right? That's what I'd thought… until we settled in at Ghost Mountain Inn, a family-owned establishment on the outskirts of tiny Mkhuze town. This award-winning hotel, which wraps around a verdant indigenous garden, is a fantastic base for travellers who're wanting to dip into different aspects of the area, whether it be wildlife, fishing, birding or Zulu culture.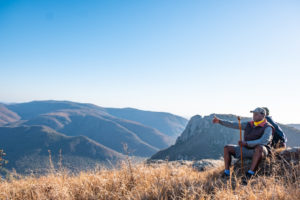 Of course you have the freedom to explore the area on your own – there is a lot to see around here – but Ghost Mountain also offers a variety of guided experiences, and it really would be a pity to miss an opportunity to head out with someone who has intimate knowledge of the area's flora, fauna and culture. Some of the trips include safari and birding experiences in Mkhuze Game Reserve (which is about 20 minutes away), walks and drives in nearby Manyoni Private Game Reserve, game viewing in Hluhluwe, and tiger fishing or cruising on Lake Jozini (only half an hour away).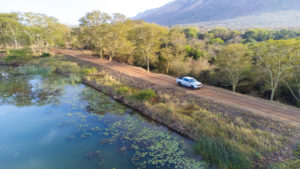 A highlight of our whole northern KZN trip was the sunrise walk we did up Ghost Mountain with exceptionally knowledgeable guide Abednigo Nzuza – hearing his stories of legends and long-gone Zulu chiefs, while standing on top of Ghost Mountain, was a truly magnificent experience.
035 573 1025
The houseboat: Shayamanzi, Pongolapoort Dam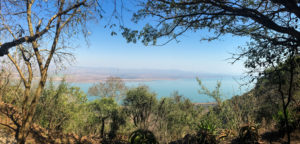 Mkhuze is conveniently close to the N2, and just outside town the curvy Jozini Pass (P522-1) winds its way from the N2 up and over the mountains on the south-eastern side of Pongolapoort Dam (which is often referred to as Lake Jozini).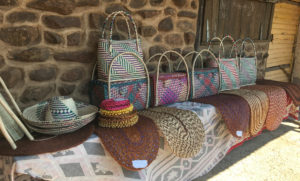 There is a parking area at the top of the pass, alongside a stall where woven baskets and mats are sold – it's well worth a stop here, both to support women from the local community and for the views of the dam. It was, we realized, a great vantage point from which to gaze over what would be our cruising ground for the next two days.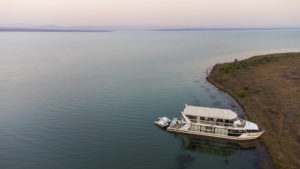 Pongolapoort Dam is synonymous with tiger fishing and many of the guests who stay on the luxurious Shayamanzi houseboat are avid fishers… but what we enjoyed most about our time on the water (along with the hearty meals and the opportunity to completely unplug and unwind) was getting a hippo's-eye view of the wildlife. Pongola Game Reserve stretches down to the waters' edge in the north-western part of the dam, and we were astounded by the abundance of game on the plains here. More warthog than we could count; ostrich, nyala, wildebeest, rhino, impala and enormous crocodiles. Watching sunrise and listening to hippos from the bed in our water-level cabin was an absolute treat.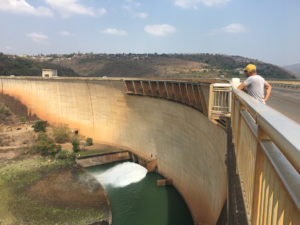 Shayamanzi.co.za
032 525 4076
The tented lodge: Tembe Elephant Park Lodge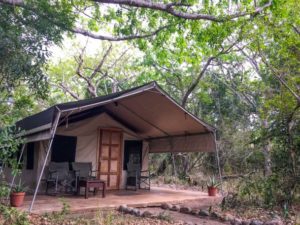 The road out of Jozini town will take you straight over the 515m-long dam wall, and from here it's just over an hour's drive to Tembe Elephant Park Lodge. The park we knew by name but had not visited and the lodge is, we came to realise, one of those places that has an ardent following: those who've stayed once tend to return again, and again.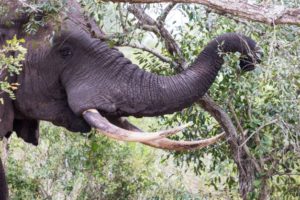 "We come for a week each year," one guest told us soon after we checked in. "I come for the elephants – I've not had such intimate encounters anywhere else." Two hours later, on our first game drive, someone else said, "I love the people who work here – it's the reason I'm a regular. I always feel like I've come home."
Tembe Elephant Park is home to some of the biggest tuskers on the continent. It was established almost 40 years ago to protect the elephants that used to migrate through this area into southern Mozambique, where civil war and poaching were posing a real threat to the pachyderms – and the park was established on the ancestral land of the Tembe tribe, who now co-own and run the park and lodge.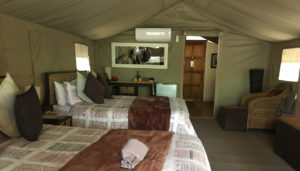 Access today visitors is limited – only 10 vehicles per day – and while 4×4 enthusiasts will enjoy driving the exceptionally sandy roads here, we really appreciated heading out on game drives with the lodge's guides. "The elephants know our vehicles and our guides," said lodge co-owner Ernest Robbertse. "It's why our guests have such incredible, close encounters with the elephants – they have developed special relationships with the guides, and the elephants trust them."
082 651 2868
The coastal forest hideaway: Kosi Forest Lodge, iSimangaliso Wetland Park
As we headed east from Tembe towards the coast, the roads became rougher. Not that we minded, really – that's the joy of travelling in a 4×4 with good ground clearance, and the Ford Ranger offered a superbly comfortable ride. Tar gave way to gravel, which gave way to sand… and bushveld opened up into a lush and rather tropical landscape.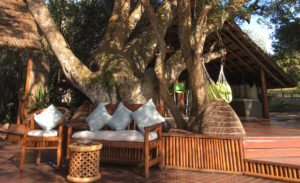 Our final destination was Kosi Forest Lodge, a property that falls within iSimangaliso Wetland Park. It's a short drive from the four interconnected lakes of Kosi Bay, and is a tucked-away sanctuary where luxurious suites are hidden under the canopy of an ancient coastal forest. Time here seems to really slow down.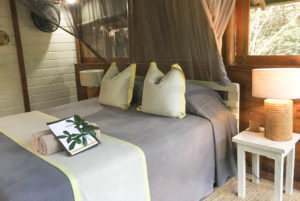 This lodge is beautiful, and what makes it special is that celebrates and showcases all that makes this area unique. In the evenings, candles twinkle from underneath reed fish traps – the same ones that are still used on the lakes to catch fish. The pool and sundowner area overlook a small lake; and there's a path that leads you on a gentle stroll through the old forest. Excursions on offer here include a boat trip on the Kosi lakes – a fascinating ecosystem – as well as a walk into the raffia palm forest, snorkelling sessions at Kosi Mouth, turtle tours and a canoe trip on tree-shrouded waterways.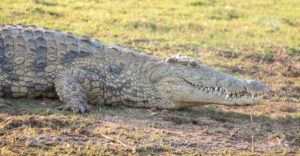 So much diversity in such a small area, we'd come to realise, is what these norther reaches of KwaZulu-Natal are all about… and a road trip is one of the best ways to link it all together.