Sophisticated Scooby stays true to station wagon roots, ups the ante with new tech and beefier engine.
Subaru's pioneering crossover Outback has been updated with fresh looks, a tech contemporary interior, improved safety features and, most importantly, a reengineered 2.5-litre direct injection Boxer Engine.
Improved engineering
Good news then that Subaru, now part-owned by Toyota, has seen fit to keep the iconic flat four. It's hardly unexpected – more than any other marque Subaru's developmental ethos is slowly, slowly, slowly, with radical engineering change a rarity. Indeed, this is as radical as it gets for the Japanese manufacturer; componentry wise, the 2.5-litre engine is 90% new and the once-derided CVT gearbox is 80% new.
Those changes – largely to materials – has resulted in an extra 10kW to 138kW over the outgoing model. Torque is also improved from 235Nm to 245Nm in a broad band from 3,400 to 4600rpm. Fuel figures improve too, claim the manufacturer, now a declared 7,3l/100km. That improvement will have much to do with the improved usability of the lighter CVT as anything else – less hunting, better fluidity, lower cruising revs will have an effect. The 8-speed now has a manual mode as well as paddle shifts for quicker change downs.
Over the rough stuff
Outback's attraction has always been its combination of sedan style comfort and off-road prowess, still unmatched. The sixth generation car stays true to the formula with tweaked suspensions further limited float and pitch in cornering (it was always pretty good), as well as adding cladding that significantly reduces noise in the cabin, at speed. At the same time Subaru has loaded up the off-road tech. It's terrain assist, called X-Mode, which sends power to specific wheels on demand, has been refined, while Hill Descent Control, now standard, is better graded for improved usage.
Ground clearance is an acceptable 213mm, the approach angle is 19.7 degrees and the departure angle is 22.6 degrees.
Smart interior touches
The interior, which is bigger and more sophisticated in all respects, is not only bristling with new infotainment tech, but also features a number of clever innovations good for the dirt-road overlander. The rear parcel shelf, for example, features a height-adjustable cover, making it possible to shield taller items in the rear. The cargo area also features hooks throughout the space as well as side nets for easy storage. There's also a 12V power socket in the rear cargo area.
Trim levels
New Outback is offered in two trim levels, Field and Touring. Field models, aimed at the more committed off-road market, are fitted with 18-inch black metallic alloy wheels, black silica painted underguard, black roof rails with green accents, black door mirror caps, black Outback lettering on the rear and green Outback lettering on the side guards.
Touring models, aimed at the urban market, sport silver trim as well as 18-inch aluminium finished alloy wheels. New colours include Brilliant Bronze Metallic and Autumn Green Metallic (all new).
Safety first
In line with coming European EU6 requirements, Subaru also updates its active and passive safety equipment. A DriverFocus Distraction Mitigation System is new, and the company's EyeSight system is honed: the dual camera-based technology now integrates features and assistance systems such as Adaptive Cruise Control, Automatic Pre-Collision Braking, Lane Departure, Sway Warning, Lane Keep Assist and Lead Vehicle Start Alert. ABS, EBD, ESC as well as Active Torque Vectoring are also standard on both variants. Eight airbags are employed within the cabin, including a seat-cushion airbag.
Outback Line-Up
Subaru Outback 2.5i-Field ES R699 000
Subaru Outback 2.5i-Touring ES R729 000
Each Subaru Outback model is sold with a 3yr/75 000km maintenance plan as well as the 5yr/150 000km warranty.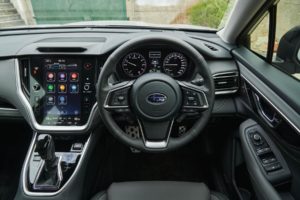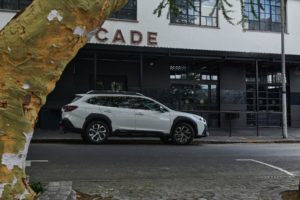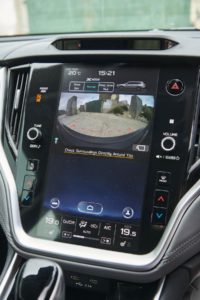 Pictures: Supplied