The all-new Toyota Land Cruiser 300 has arrived, and first impressions indicate it'll be a more-than-worthy successor in its distinguished bloodline.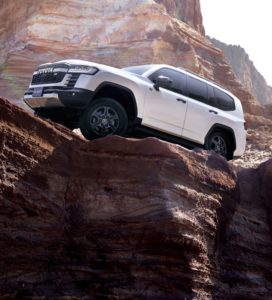 For decades now, Toyota Land Cruiser has quite literally been the vehicle of choice for saving lives. Humanitarian missions, medical evacuations, search and rescue operations, military reconnoissance, you name it… If the work is taking place in an unrelenting setting with the worst of the worse terrain, more often than not the go-to is Land Cruiser.
The reasoning for this is simple: They're as tough as nails, they're dependable, they generally don't break, and if they do repair parts are typically easy to come by. Toyota sells the Land Cruiser in 170 countries, which illustrates just how wide-reaching the brand's back-up and support is for this product. If I were an owner, that would paint quite a reassuring picture.
PEDIGREE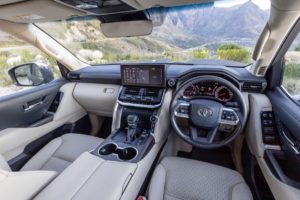 It's been 14 years since the now-legendary Land Cruiser 200 series was launched in South Africa. That model was a progression in the proud and accomplished Land Cruiser 'Station Wagon class', following on from the 60 series of the 1980s, the 80 series up until '98, and then the acclaimed 100 series from '98–2007. What's truly remarkable is that many of these vehicles are still operating today, often on roads that would've reduced lesser vehicles to a pile of bolts.
In the years following its '07 launch a few fresh iterations of the 200 series rolled into dealerships and out on to the tweespoor tracks of Southern Africa, but underneath the cosmetic upgrades, refinements, and tweaks the tried-and-tested substructure always remained, and the marque continued to rake in even more devotees along the way.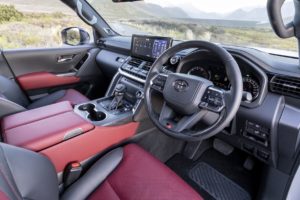 What this backstory tells us is that the new Land Cruiser 300 (or LC 300) has colossal tyre tracks to fill, and it's this inescapable fact, I'm sure, that kept Toyota's design engineers up at night, motivating them to get every aspect of this noble nameplate right, the first time.
ALL-NEW LAND CRUISER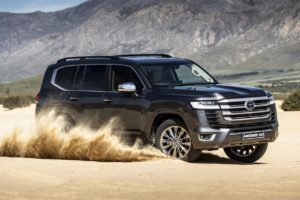 The recent unveiling of the LC 300 gave South African motoring journos a chance to spend some quality time with the new models in the line-up. There are three grades, GX- R, GR-S, and ZX. With its price tag nudging towards the R1.3 million mark, it would pain me to call the GX-R the entry-level option. So let's rather say it's the utility model, albeit a supremely comfortable and capable one for which many would sell an organ to call it their own. The GR-S, the most expensive of the trio (R1 842 900 for the petrol derivative), is punted as the off-road performance contender, featuring unique exterior styling, trim, and tough 18" alloy wheels, as well as a spec list that's angled more towards off-road needs. ZX, on the other hand, is a luxury contender. Its interior finishes, upholstery, and surfaces as well as exterior design cues exude opulence, but don't mistake looking expensive for diminished capabilities. Barring slightly less aggressive off-road credentials (the approach angle, specifically), this beast will still overcome the most punishing terrain.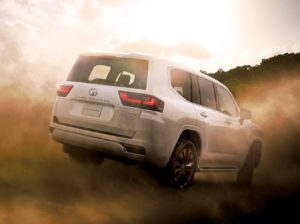 The LC 300 is the first series to be built on the TNGA (Toyota New Global Architecture) platform. This is a modular approach to vehicle manufacturing that the brand introduced back in 2015. The objective was to simplify the production process, across the board, drastically reducing the number of platform variants Toyota was making. Prior to the new strategy, there were more than 100; now, a mere five TNGA platforms form the foundation for the majority of vehicles Toyota makes. The LC 300 is the first ladder-frame execution of TGNA, meaning this beast is still a body-on-frame off-roader, music to the ears of the most hard-core 4×4 enthusiasts.
POWERTRAINS
Buyers get to choose between two new engines – a 3.5-litre V6 twin-turbo petrol that develops 305 kW at 5 200 rpm and 650 Nm of torque at 2 000, and – my favourite – a 3.3- litre V6 turbodiesel kicking out 225 kW at 4 000 rpm and a whopping 700 Nm of torque at 1 600–2 600 rpm. While the petrol is buttery smooth to drive, and leaps off the sprint line like a performance car 1 000 kg lighter, the diesel with that immense torque at gurglingly low revs would be where I direct my hard-earned rands.
FEATURES
As you'd expect – or at this price, demand – the new Cruiser boasts a full quiver of features and enhancements. These include keyless entry, park distance control, climate control with separate rear zone, built-in satnav, a collection of charging ports and sockets, Apple CarPlay and Android Auto and, for a more customised on- or off-road driving experience, Crawl Mode and Drive Mode Select. To elevate them, the ZX and GR-S models also feature a power-operated rear door, 14-speaker JBL audio system with DVD playback and 12.3" touchscreen, wireless charging for your smartphone, and Multi- Terrain Monitor with Panoramic View, a system that uses four strategically positioned exterior cameras to project a comprehensive view of the terrain conditions on to the central screen.
OFF-ROAD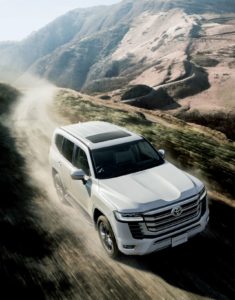 But let's cut to it… What most Land Cruiser lovers really care about is when the tar ends, and the rough stuff begins. To give us a snapshot of the LC 300's capabilities, the launch event saw us navigating a variety of terrain types – gravel roads, deep sand, rocky sections – and not once did I notice the vehicle falter. Press the Multi-Terrain Select button to choose from six preprogrammed off-road modes – Auto, Dirt, Sand, Mud, Deep Snow, and Rock. Each one subtly adjusts the vehicle's set-up, including drive torque, suspension, and brake hydraulics, optimising the configuration for the terrain ahead, helping to iron out the topography in your path.
Taking things a step further, the GR-S model incorporates an enhanced version of Toyota's acclaimed KDSS (Kinetic Dynamic Suspension System), which links wheels on the same axle via hydraulically supported stabiliser bars to optimise wheel articulation and body-roll control. The upgraded system is called E-KDSS, which is electronically controlled through the vehicle dynamics module. It sounds like a lot of jargon, but the result is a body-on-frame behemoth that's eager to work, and play, in the most unforgiving environments, and maintain tyre contact and traction on highly undulating surfaces.
VERDICT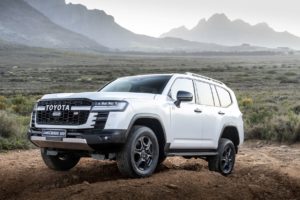 While 'dominating' and 'formidable' are descriptors for the new Land Cruisers looks, it's underneath and inside that it truly excels, with class-leading technologies and capabilities. And if the nameplate's track record is anything to go by, the 300 series will continue to be a crowd favourite in a decade's time and, I'm sure, still, save many lives along the way.
MODEL LINE-UP
Land Cruiser 300 GX-R 3.3D: R 1 283 200 Land Cruiser 300 ZX 3.3D: R 1 765 500 Land Cruiser 300 ZX 3.5T: R 1 797 100  Land Cruiser 300 GR-S 3.3D: R 1 811 900
 Land Cruiser 300 GR-S 3.5T: R 1 842 900
SERVICE AND MAINTENANCE PLANS
9 services/90 000 km service plan (12 month/10 000 km intervals) 3 year/100 000 km warranty
KEY OFF-ROAD DATA
Approach angle: 32° (GR-S); 24° (ZX; GX-R)
 Departure angle: 26.5°
Breakover angle: 25°
Wading depth: 700 mm
Ground clearance: 235 mm Tow rating: 3 500 kg (braked)
Photography: Courtesy of Toyota