By Narina Exelby and Mark Eveleigh
I'm willing to bet that no matter how much you enjoy getting away from the crowds and watching wildlife, there's a part of you that can't resist people-watching in campsites, too. Take us out of our concrete boxes, demand that we pack everything we need to survive into one vehicle, then put us in close quarters and see how we re-settle ourselves… it's fascinating.
Everyone has their own routine, their own style. Some people roll into the campsite and – in a sequence that's obviously been honed over many years – immediately and silently begin to unfold, assemble, pitch, park and hammer until their temporary abode is just as it should be. Some people fuss about their awnings, brushing off the canvas walls as they unfold them; others sit back and employ the help of campsite staff to set things up.
Others take longer to get going. They pace around and around, looking up to calculate the shade potential of branches, scrutinizing the ground for thorns and rocks and tell-tale signs of running water, then squinting up at the sky (okay, so the sun will set over…. there?) as they try to calculate the perfect position for the tent/trailer/caravan. Some campers travel with enough gear to set up their own luxury apartments (aircon, running machine, DStv satellite and kitchen sink included), while others simply open a rooftop tent, sleep and then hit the road again. I've never seen two campsites set up in the same way – and that's the beauty of camping. We all do it in a way that suits us, our budgets, our time constraints and our preferences.
Mark and I are pretty simple campers. We tend to spend only a few nights in one place, so we have a convenient set-up-and-go system: one tent, two camp chairs, one cooler box and two lug boxes (which double as a table). Inside the lug boxes: inflatable mattress, pump, two sleeping bags, two lights, a pot, simple stove, braai tongs, cutlery and crockery.
The tent we've been using the past few months is a K-Way Panorama three-person tent– which means that once your inflatable mattress is inside, there's ample space for two (sleeping) adults. It's easy to erect and we're usually all set up within five minutes. In its bag the tent with all the pegs and poles weighs 5.9kg but the tent and poles are exceptionally light… which is a huge benefit because I'm one of those campers who's quite indecisive about where to put the tent (its position has to feel right, you know?), and so once the tent is up I tend to reposition it once or twice before the flysheet goes on, the pegs in and guy ropes up.
The tent itself (made from breathable polyester ripstop fabric) clips onto two very light-weight poles, and a third pole holds the flysheet overhead. At the apex of the tent inside, there is a "hammock" for storing relatively lightweight things (like, sleeping bag covers, puffer jacket or a torch) and there are two side pockets, too. The doors can be completely zipped up or be closed only with the "No-See-Um" mosquito netting, which really does provide some visual privacy during the day. We haven't used this tent on hot summer nights, but the option to sleep with only mosquito nets over the two entrances would definitely be a benefit.
Cape Union Mart says the K-Way Panorama "is a great choice for weekend hikers" (divide the tent, flysheet, poles and pegs between three hikers and you'll carry 2kg each). I'd say it's a good choice for no-fuss campers, too… although if you're camping in the rainy season you might appreciate packing a gazebo so you have the option to sit under that. The K-Way Panorama is spacious enough for two people to sleep in, but it's not designed to be a "living area". Keep in mind that you'll need to crouch to get in through the doorway so although it's really easy to set up, it's not a good choice for less-agile campers.
One simple design feature that we really appreciate: while it's small enough to take up minimal room in the back of the vehicle, the bag for the tent, poles and pegs is more than big enough for everything that needs to fit inside. No fancy folding techniques are required to squeeze everything in. In fact, we even keep a small brush and dustpan in there too.
THE DETAILS: Once set up the K-Way Panorama three-person tent stands 125cm high. Doorway to doorway measures 245cm and at its widest point, the tent is 370cm. The tent is available at Cape Union Mart for R1999.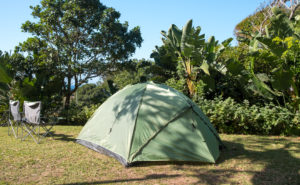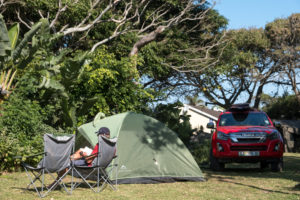 Pictures: Narina Exelby and Mark Eveleigh