By Narina Exelby and Mark Eveleigh
Some people know Rodger Hobyane as the Peter Pan of Northern Kruger because it seems that year after year he refuses to get older. To others, he brings to mind an overgrown Harry Potter, because the supervisor of Kruger's Tsendze Rustic Camp is often to be seen in the company of owls.
"Many traditional people are wary of owls since they are sometimes connected with witchcraft," Rodger points out, "but I love to see them around. And there is rarely a day throughout the year when there aren't several wonderful owl visitor resident in the camp."
For anyone with a special love or interest in owls, Tsendze Rustic Camp might be one of the best spots for sightings in Southern Africa. Rodger leads me towards one of the thatched lapas in the centre of the camp to introduce me to a new friend: an African wood owl that has taken up residence there.
"He has a mate nearby I think," he tells me as he points out the beautiful bird that is roosting through the daytime, oblivious to the campers who wash dishes just a few metres below him. "I sometimes hear a call from the bush and he answers."
Living and working in such an enchanting little patch of paradise, Rodger has also become a keen photographer. Rodger regularly updates photos from his paradisiacal office at Tsendze to his Facebook page (Rodgerh Tsendze).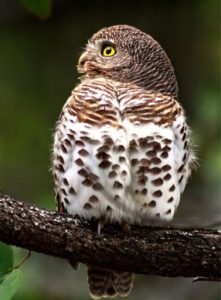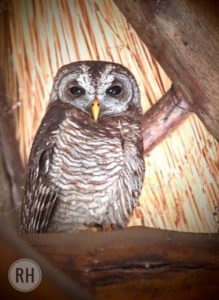 Pictures:  Roger Hobyane