By Narina Exelby and Mark Eveleigh
"It's more about the journey than the destination." This is one of the most hackneyed cliches in travel writing, yet it's a statement that resonates particularly with anyone who drives a sturdy 4×4 and has a love for Africa's open spaces and rough gravel roads.
We're two hours northeast of Johannesburg and have just turned off the R540 near Dullstroom, and are revelling in the fact that our destination – a property called Valley of the Rainbow – is 'blessed' by being set along a truly abysmal district road.
The Isuzu rumbles unerringly along a route so heavily eroded that looks like it might have been churned up during the last rains by an entire column of sixteen-span Voortrekker wagons. The ruts are axle-deep (even for an ox-wagon) and have been baked almost to concrete by the Highveld sun, but I almost wish we were driving through heavy rain so that I could put the 4×4 to a real off-road challenge.
Some holiday destinations are worth choosing primarily for the thrill of the road-trip. It turns out that Valley of the Rainbow is a real traveller's oasis…actually several oases spread around a chain of dams that are stocked with trout (brown as well as the rainbow that give the property its name). Apart from the main lodge there's a wonderful old farmhouse and a romantic converted 19th century water mill that looks like the backdrop for an H.E. Bates novel. Beside the upper dam there's a selection of chalets and down at the lower edge of the property some idyllic tented accommodation (with en-suite bathrooms and deep verandas equipped with sitting areas, kitchens and braai facilities).
In East Africa sumptuous canvas accommodation of this sort is often referred to as 'Hemingway-style tents'. I'm no fly-fisherman, but it was easy to imagine that could Ernest Hemingway ever have come across these secluded tents overlooking their own private trout dam, he might never have left.
There's a pot of gold at the end of every rainbow, so they say, and Valley of the Rainbow is the sort of treasure that worth hunting down. It's the type of place we could arrive at and not want to leave…except, of course, for the lure of all those wonderfully rugged dirt roads. So we drop our bags and set out to explore. Off to the north lies a series of towns with names that ring with pure adventure – Tonteldoos, Laersdrif, Draaikraal – so we leave the trout for the otters head out to look for the worst roads we can find.
THE DETAILS Valley of the Rainbow offers a range of accommodation – and a fun drive, if you have a vehicle with high ground clearance. The more adventurous way to get to Valley of the Rainbow is to turn off the R540 near Dullstroom; a smoother route (although it can be tricky in a 2×4 in the rainy season) is to approach from the R555 near Stofberg. Apart from the famous fly fishing, Valley of the Rainbow offers guided night walks, birdwatching walks and archaeological sites that might be 800 years old. This is a great base for hiking, mountain biking and horse riding. For more information see www.rainbowvalley.co.za, email [email protected] or call 013 272 7231.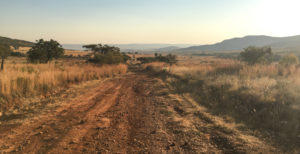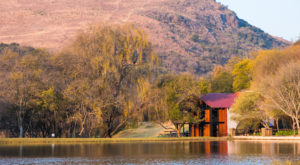 Pictures: Narina Exelby and Mark Eveleigh