Haval Jolion moves the goalposts back to China
Written by Andrew Leopold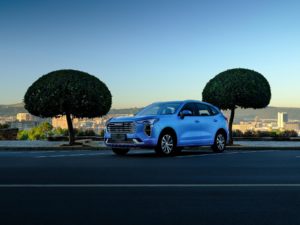 I've seen a few of these out on the road
That's always an encouraging sign of a good vehicle; the Haval Jolion has certainly built some hype and presence for the brand, which is also likely to position it in customers' minds as something other than a vague alternative in a saturated market. Last year Haval leapfrogged some major brands to rank fifth in the overall sales figures – an achievement that is based on nothing else but the product itself.
It's the smallest SUV that Haval has on sale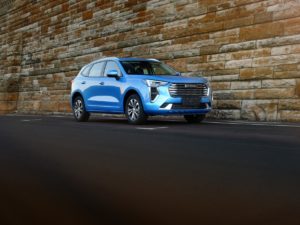 Size is one of the Jolion's many merits. Large enough to rub shoulders with a VW T-Cross, Hyundai Venue or Suzuki Vitara but you're never likely to feel that it's 'too much car' once you've dropped the kids off at school. It's an SUV for those who desire a wedge of ground clearance and higher seating position rather than for bashing your way off-road.
Driving a Jolion around town is no more challenging than a medium-sized hatchback and you'll be thankful for the bigger boot space and folding rear seats when those holidays reminders pop up on Google calendar.
The looks are growing on me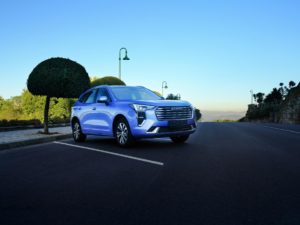 Haval hasn't been around long enough in SA to have established its own visual identity so I still find myself struggling to make any meaningful associations or comparisons. Sometimes the styling can appear a bit muddled as if they've taken influence from too many examples, but actual inspection of build quality confirms that it is impressively put together and quickly rejects any suspicion that the affordable price is down to inferior assembly. Every part from the alloy wheels, rubber seals to the neat subtle integration of cameras and sensors helped unite our trust in the product and advocate it to others.
Does the package unravel out on the open road?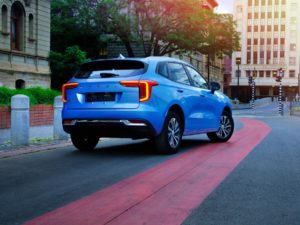 It's a gentle thing out on the road. The Jolion weighs up a variety of conditions and driving styles and treats them all with a sensible and balanced approach – without any obvious vices. It mirrors many likeable tenets of the Mitsubishi Eclipse we recently tested: Calm, Soothing, Friendly.
Out of all the development scenarios, one that the Jolion probably never encountered was a racetrack and as a result, it doesn't like to be wrestled around corners. Instead, it'll obey fair instructions with two thumbs up, mute any vibration or noise commendably well, even at highway speeds, and if it gets a little noisy under the hood, you're probably driving too aggressively anyway!
That 1.5-litre engine makes suitable power and we are so pleased to report that Haval has caught up with their turbo technology and dual-clutch gearbox pairings.  This is not the most characterful engine you'll find in an SUV and higher revs quickly disturb its aura of refinement but this can all be mitigated by driving with a combination of patience and anticipation. There are five different driving modes and a little extra sportiness can be unlocked by using the paddle shifters.
You mentioned sensors and cameras
Part of the Super Luxury variant and certainly worth the extra money, the Jolion is equipped with every active and autonomous driving gizmo that's ever been invented, yet never before has it trickled down to this price point. It'll keep to the centre of a lane with only small interventions from the driver, maintain a safe following distance to the car ahead, warn you of drivers in your blind spot, and anything else, including Cross-Traffic Alert, that could lead to fewer accidents. Occasionally the system detects things that aren't there but you understand why, if anything, it has been designed to err on the side of caution.
These systems have come a long way; initially, you activated them for long-distance driving but with the Jolion they're never far in the background. Sounds like an overbearing parent but having them close by starts to build an understanding between humans and AI that felt quite natural and a real glimpse of the future. While it doesn't adapt to your style, just yet, you do learn to work alongside these driving aids and share the drive – sometimes with overwhelming alarm chimes causing you to have a second (panicked) look around.
Very few buttons inside is an ergonomic risk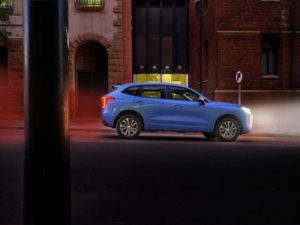 One of the largest touchscreens you'll find and a small row of buttons is rather typical of modern cars right now. Climate is controlled by the touchscreen but the aforementioned button skips straight to the right menu..
It's an attractive place to sit with a variety of textures that feel sturdy for the daily button pressing and supple where you're likely to rest your arms and backside. It's worth noting that our test until had over 7000kms on the odo, yet still looked as though it had come off the showroom floor.
Storage space is genius too with clever places to put cards, glasses or phones and a wireless charging tray upfront. The seats are extremely well designed, and remind me a lot of sitting in a Volvo while the rotary gear lever would make Jaguar's design team sit up and take notice.
Verdict
By day three in the test, I was still determined to see if could expose some flaw with the Jolion and crack open this puzzling enigma but by day seven I happily accepted that the Jolion really is too good to be true. It's clear that Haval benchmarked the leaders and the expectations that go with it but they also had a point to prove in a segment that was perhaps growing a little complacent and overrun with modular platforms. The Jolion completely reframed the entire segment, meaning there's a good reason why it's translating into these extraordinary sales figures.
Haval Jolion Super Luxury
Engine: 1.5 litre, 4-cylinder turbo petrol
Power: 105 kW 210 Nm
Transmission: 7-Speed Auto DCT
Ground Clearance: N/A
Price: R408 9000
Likes
Tech
Good value
Safety Features
Dislikes
Excessive driver warnings