Written by Stephen Smith
Bigger isn't necessarily better: that's the takeaway of our recent expedition in a Suzuki Jimny to Lesotho. While serious overlanders start with one of the biggest 4x4s they can find and then add mountains of kit to it, there is a minimalist alternative – a small, cute, angular, capable alternative. And just like the car, Lesotho proved that you don't need a bid landmass for big experiences.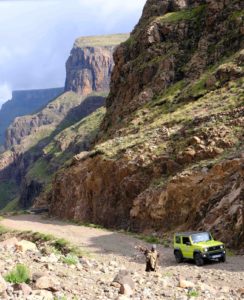 The Jimny is an analogue hero for a digital age: a proper 4×4 with the second gear lever to select 4×4, 4×4 high or 4×4 low. As well as the low-range transfer case, it has excellent ground clearance (210mm) and approach/departure angles (37° and 49° respectively), so not much is going to be stopping it. We gave it a test of sorts up Sani Pass, which was in bad condition thanks to heavy rains and little maintenance, and the Jimny dispatched it with ease, as you'd expect (although my sister, who was co-pilot, sat nervously with her eyes closed, occasionally giggling hysterically). It's in conditions like these that low range really pays for itself, allowing you to slowly crawl up and over rocks without the need for momentum, which means more control and consequently far less chance of damage to the car, as well as increased safety. The same is true of coming down steep slopes with low range – you need to use the brakes far less, and if you're not braking there's less chance that you'll slide, and you can't steer while your car is sliding.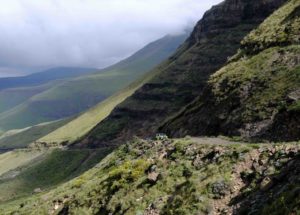 Much of the rest of the Lesotho travels was on tar with little intervals of gravel road and the Jimny felt right at home on most of it. One thing that you do see a lot through your windscreen in Lesotho is the blue sky peeking out from the top of a long hill, and no 1.5-litre, naturally aspirated vehicle is going to thrive in those conditions at these altitudes (we crossed the highest tarred road in Africa at over 3300m above sea level).
The trip was also a timely reminder of Lesotho's attributes as an overlander destination. It has the highest low point of any country in the world and is the only country entirely above 1000m above sea level. It also has one of the world's smallest road networks despite being almost the size of Belgium, but that doesn't mean there is a deficit of places to explore.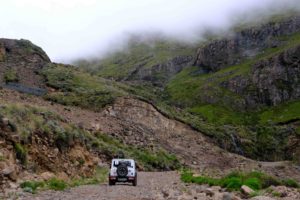 Because of the heavy rains preceding our visit we stuck to the main tar roads (to avoid low-level bridges over  – or not over – swollen rivers), but even so, we were constantly struck by vistas that needed to be given moments of appreciation. From the big-name attractions like the 192m, single-drop Maletsunyane Falls to nameless gorges, countless road passes and views over the massive dams of the Highlands Water Project, Lesotho has places that need to be seen, slowly. Drives through Scottish moors and roadside dips in Alpine streams can all be done within this little mountain kingdom, but what can not be done is rush – don't calculate driving time by ordinary km or you will be caught short when the sun dips behind one of those spectacular peaks.
Back to the car: then there's the economy: over 4 days and quite a few hundred kilometres, our average fuel consumption was 7.1km/100km! Add in the other low maintenance costs (no turbo, and only four cylinders), the cost of tyres (R1800 or so for the standard 195/80R15 size from a reputable brand) and the result is a car that you're happy to jump in and drive, without doing the maths and figuring out if you can actually afford to drive around for 10 days.
Suzuki also recently made Jimny ownership more attractive with the addition of the GL model: more kit than the GA but at a better price than the GLX. In my opinion, this will win quite a few sales from the GA but the GLX will still win over a lot of buyers with the big touchscreen and other niceties. After all, if you're going to be going on an expedition in your Jimny, you want all the creature comforts available.
Lesotho is a great destination for beginner-overlanders and really should be given more respect and time by our 4×4 community, which is why we'll be back soon to venture a bit further from the beaten path. Perhaps we'll get to the UNESCO Sehlabathebe National Park and have more time to fish (who knows – a pony-supported fishing trek might be the answer?).
The Suzuki Jimny starts at R318 900 and goes up to R377 900 for the GLX auto, while the GL manual is R336 900. Suzuki's standard 5-year/200 000km warranty is included, as is a service plan of 2-years/30 000km (GA) or 4-years/60 000km (GL and GLX).
Our Suzuki Safari through Lesotho was organised by African Expeditions and led by Johann and Justin du Toit. They specialise in small-group safaris around Southern Africa and are just the folk to introduce you to new places, Lesotho included. Get hold of them on 084 874 7388, 074 342 6740 or [email protected], or find them on Facebook.