The 2021 Dakar has breached the half-way mark featuring thrills, spills, and heartbreak.
Saudi Arabia is an unforgiving terrain, it may seem like an odd place to hold the Dakar though it's proving to be a wolf in sheep's clothing. The desert wasteland has thrown up more challenges than anyone could have expected, more so than 2020. We summarise the cars and bike categories so far.
Cars:
'Mr Dakar' Stephane Peterhansel is keeping true to his name by leading the overall standings. Nasser Al-Attiyah is close-ish behind him in second place in his Toyota Gazoo Racing Hilux, it'll take a mistake on Mr Dakar's part for Nasser to claim overall victory.
Giniel De Villiers and his Toyota Hilux Gazoo racing haven't had the easiest of Dakar's, the terrain has eaten tyres, and it's been particularly hungry for his. Giniel doesn't look like he'll be featuring on the podium this year though looks to continue his record of zero DNFs in the Dakar.
New kid on the Dakar block rookie Henk Lategan was doing extraordinarily well until his Toyota Gazoo Racing Hilux went wheels-over-windscreen, breaking his collarbone and sadly ending this Dakar outing. As heartbreaking as it was to see his Dakar hopes dashed, Henk has displayed his talent behind the wheel and has a bright future ahead.
The new pairing of driver Brian Baragwanath and navigator Taye Perry, who did her first Dakar on a bike in 2020, is a force to be reckoned with in their Century Racing car. A second-place podium on Stage 5 the Century Racing vehicle was the cat amongst the Hilux and Mini pigeons. Unfortunately, a mechanical or two saw them drop down the standings though we're confident the rest of the stages will see them finish in the top ten.
Yazeed AlRahji took his first stage win in an Overdrive Toyota Hilux.
Bikes:
The thrills, spills, and heartbreak belong to the bike category. The top nine riders all running within 6-minutes of each other it's meant flat-out riding to hold onto positions.
Nicolás Cavigliasso's bid to take back his crown ended in heartbreak today as his clutch broke less than 100 km from the overnight stop on the marathon stage.
Toby Price has been riding a measured Dakar since the start, keeping out of the responsibility of opening the stage but keeping in everyone's mirrors. He has mentioned that the bike has underlying gremlins so going full taps is not the best idea. A damaged tyre with no spare has meant an on-the-fly repair job with duct tape and plenty of cable ties, hopefully, it'll get him back to bivouac for a new wheel after Stage 8.
The Kalahari Ferrari Ross Branch had a heartbreaking day. After a series of strong finishes a crash today, and a stuck chain on the bike, meant his chance of a Dakar podium slipped away with every minute spent on repairs. His tears of loss and frustration were shared by many a viewer at home.
Defending champion Ricky Brabec has had a relatively quiet Dakar so far, only featuring in the top ten in stage 2 when he finished in second place. Today however saw a stage win for him that pushes him up the rankings breaking into the top 10 in the overall standings.
VIDEO: History of Paris-Dakar Rally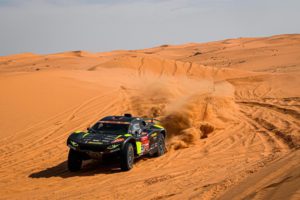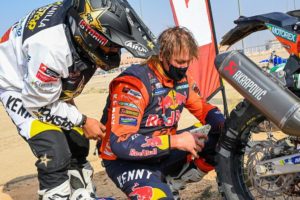 Images: Dakar.com
-END-