The first big victim was the Australian Grand Prix. Every other F1 race has either been postponed or completely canceled. The new calendar has back to back races in a bid to make up for lost time. Even the most famous race of them all – Le Mans – has been shelved until September.
Locally, the Cross Country Series has just started, the Simola Hillclimb has been cancelled and the Festival of Motoring has been moved to 2021.
It seems enthusiasts can only last for so long without racing, which means the sport quickly moved online. And it's not just a bunch of pimply teens and middle-aged men racing from their living rooms either. A promotional race for iRacing (the current racing sim of choice) saw famous faces like Scott Speed, Travis Pastrana, Rubens Barrichello, Juan Pablo Montoya and Takuma Sato participate. A select few editors of USA-based automotive publications were invited to race against these men and had their jacksies handed to them. As Travis Okulski of Road & Track said: "It was a reminder that these pros, even those with a professed distaste for sims, are on another level. And that these games, while serious in execution, can provide levity."
Rumour has it, even more famous racing faces are partaking in the sport under a pseudonym. We'd like to think this is true, especially for a bunch of guys to whom racing is everything. Can you imagine Lewis Hamilton not competing in some form of competitive racing for over six months? Neither can we.
iRacing is currently the world's premier motorsport racing sim. The physics are as real as it gets and there are numerous formulas to choose from: Australian Supercar, IMSA, Grand Prix, and even something as simple as open-wheel dirt oval racing. All you need is a computer with a large screen, high-speed internet connection, and a racing wheel.
With that in mind, we looked at a number of steering wheels available locally and internationally, ranging from affordable to absolutely absurd.
Basic generic racing set-up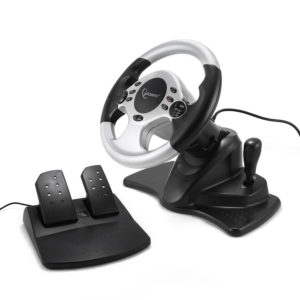 The good news is that you can get a complete racing set-up for less than R600 these days. Online retailers know people are forced to stay home over the weekends so there are all kinds of deals to be had, such as this steering wheel complete with pedals and a shifter.
Price: R570
Braceus gaming steering wheel with pedals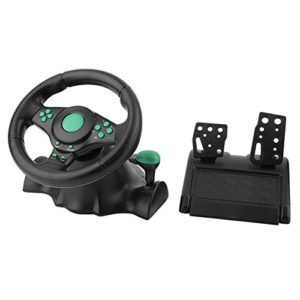 More money buys you more functionality and a more realistic feel. Since iRacing is a racing sim and not merely a game, you want the feedback from the controls to be as realistic as possible. The Braceus system uses spring-loaded pedals and a vibrating steering wheel to enhance the experience. It can even mimic the feeling of ABS kicking in.
PRICE: R2 340
Logitech G920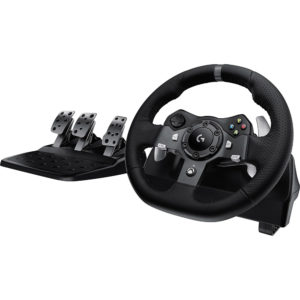 Once again, in the attempt to make the racing feel as realistic as possible, this set-up features dual-motor set-up in the steering wheel. This is meant to provide realistic steering feel and mimic how the steering responds in oversteer and understeer situations. The pedals include a clutch, in case you're in the mood for self-shifting.
As standard, you get 900-degree lock-to-lock rotation, which is the same as you'll find on a proper racing car.
PRICE: R6 399
F1 GAMING SEAT FOR PS/X-BOX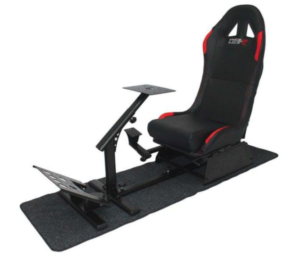 Higher up the price range is this racing seat setup. For a more realistic racing feel that mimics a car setup, with an adjustable sport seat. It allows for the steering wheel, shifter and pedals to be mounted to the frame.
PRICE: R12 999
What Lewis probably has at home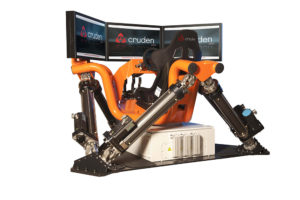 This might surprise you, but you can spend up to R20 million on a proper set-up. Apart from the ultimate steering wheel, pedals and shifter, you want a proper racing seat with a five-point harness. And the harness isn't simply there for decorative purposes.
Thanks to the seating set-up being mounted within a motion feedback system with three large flat-screen high-definition televisions.
It's made up of various components, but the total cost of a system like this can cost up to R20 million.
GEAR: 10 Bits 'n Bobs for your braai
-END-