A new bakkie to be excited by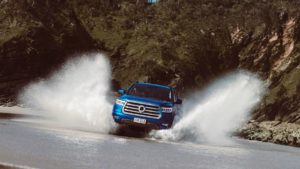 We've had GWM bakkies before with the Steed but never anything this upmarket. That's because the P Series is trying to distance itself from the Steed's agricultural roots and disrupt the status quo thanks to some revolutionary technology, high standard specification and low price.
Keeping to the style rulebook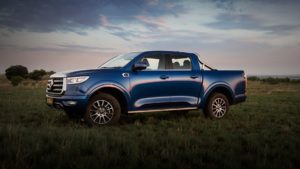 Bakkie styling might seem an easy thing to get right since everything from the A-pillar rearwards tends to revolve around practicality and not too much room for imagination. GWM has fortunately followed trusted style guidelines such as strong jawline and defined cheekbones and even the chrome grille looks moderately tasteful. Its size is actually slightly larger than your neighbour's bakkie and it manages to exude a confident and distinctive look.
Is the P for Power?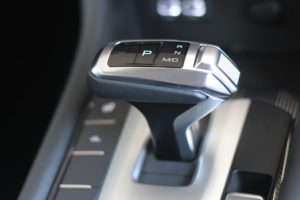 It's not the most powerful bakkie on sale but figures of 120 kW and 400 Nm give it a decent score in the midpack against the 2.2 Ranger, for instance. All models are fitted with the 2.0-litre engine and our model comes with an 8-speed ZF gearbox. It's a smooth and quiet powertrain but it's in the lower gears and rpm where the combination falls asleep – and can even be described as dangerous. Gaps at intersections always feel tighter than they need to be as you wait for the power to arrive and for the gearbox to get the make its mind up. Let's just say, other road users didn't display the same sort of patience and made their frustrations clear and audible.
Switching it to Sport does shave off a fraction of a second but it's not a long-term solution and in return, introduces some unpleasant harshness into the gear changes while raising the engine note through the cabin. The turbo lag isn't a problem that you get used to either and there's no easy way of driving around the problem. Ultimately it feels like a bad calibration rather than a poor powertrain but it's an issue that prevents it from seriously challenging its rivals.
It's the only bakkie that can steer itself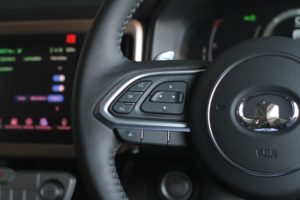 The P Series launches a range of tech to the envy of the bakkie segment. Rather than beep or vibrate the wheel, the lane-keep assist will actually guide the car back into its lane and was pretty quick at picking up the lines. Just be warned that there's no off-switch for it. There's also blind-spot monitoring and an impressive reverse camera with 360-deg view that wouldn't be out of place on a luxury German sedan. It's a small pity that the rotary knob is only used to select driving modes and doesn't operate the touchscreen, which has the usual smartphone features. Those smartphones can also be charged wirelessly.
We also discovered that the steering wheel doesn't adjust for reach although couldn't fault the driving position, especially with electric adjustment for the seats while the diamond-pattern stitching in the doors might make you believe you've been transported to the inside of an Italian sportscar. Rest of the quality feels ok; things like airvents don't feel all that sturdy yet the buttons do and are arranged sensibly and neatly. An electronic handbrake is also a nice addition, although we are curious if true off-road enthusiasts feel the same way – something for the comments section?  Keyless entry and heated seats ramp up the toys for rands conversion but no dual zone climate is a missed item. This isn't just a good interior for GWM, it's a good interior wherever you shop.
When you actually steer it yourself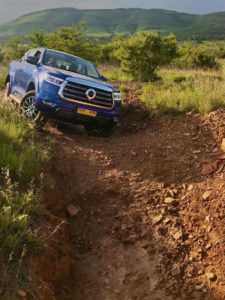 You don't have to sigh when it reminds you to put your hands back on the wheel. The GWM P Series has a tight turning circle which imbues it with some nimbleness but the spring setup is on the firm side which amplifies small surface undulations and sends these vibrations back into the cabin. The steering feedback can also feel a little inconsistent as it returns to centre.
You never get too involved with the way it drives, instead, it prefers a long trip when the road and horizon meet in a straight line and where it can deploy all its tech and cruise control to reduce stress levels and make scratching the bottom of that sweety packet a little safer.
Any off-road goodies?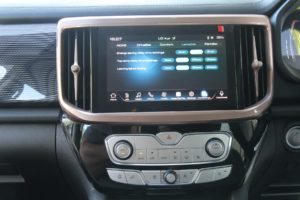 It does have 4L  (operated by a button) and relies on a raft of electronic systems to drive the front wheels if grip levels drop. As with all bakkies nowadays, there are no bulky levers to pull and it doesn't ask you to do much other than steer and moderate the power. It also comes with diff lock, while serious off-roaders will be clever to change the standard rubber before tackling the outdoors.
Value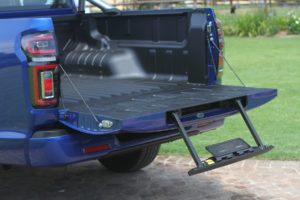 We've come this far without mentioning the price, which plays an enormous role in adding some persuasive weight to the P Series' appeal. At R544 900 for the model we're reviewing, it's about R300 000 cheaper than a Ranger or Hilux flagship. It also comes with a 5-year/100 000 km warranty and a 5-year/100 000 km service plan as standard.
Verdict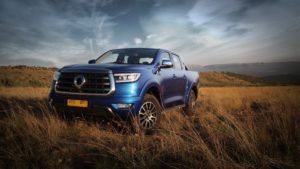 The P Series has a diverse Pros and Cons list. In some areas like technology and price, it leaves competitors red-faced but its sleepy engine response can't be excused or overlooked. The rest, like handling, falls right in the middle which given the price, is not a bad result. It doesn't quite feel 'Made for Africa' in the same way as Isuzu but there is a market out there who prefer the bells and whistles.
GWM P Series LT 4×4 Auto
Engine: 2.0 litre, 4-cylinder turbo petrol
Power: 120 kW 400 Nm
Transmission: 8-Speed Auto
Ground Clearance: 232mm
Price: R544 900
Likes
Tech
Good value
Fashionable style
Dislikes
Lethargic engine response at low rpm