South African Cross Country champion Lance Woolridge joins Extreme E racing series.
There's nothing better than seeing talented South African drivers get a seat with an international team. The latest SA driver to move into the global arena is Lance Woolridge. The name might sound familiar as he's a two-time South African Cross Country Series Class T champion with the Neil Woolridge Motorsport team, youngest race winner in a domestic championship, and at 29 years old has completed 12 seasons locally.
VELOCE RACING
Lance Woolridge is signed up to UK-based Veloce Racing team, one of nine teams in the inaugural Extreme E series as their reserve and development driver. Veloce Racing counts Formula One designer Adrian Newey, Formula E Champion and ex-Formula 1 driver Jean-Éric Vergne as part of its key management team. The drivers that Lance Woolridge will be serving as a reserve for are Stéphane Sarrazin (France) and W Series champion Jamie Chadwick (UK).
"It's a huge privilege being selected to join Veloce Racing, which has performed a masterstroke in bringing together a team that is ready to take on anything the upcoming year in Extreme E is going to throw at us, and I'm very proud to be a part of this journey from the start," Woolridge says.
"Extreme E has already created a lot of interest globally, as it features some of the world's top drivers and motorsport personalities. It promises to deliver plenty of great action while bringing much-needed attention to crucial environmental issues," he adds. "Sport, and the exciting world of motorsport in particular, has the ability to captivate nations. The high-tech nature of Extreme E is a fantastic way of promoting innovation, while simultaneously raising awareness regarding sustainability and the urgent need for drastic changes from all of us in the way we go about our daily living."
According to Ian Davies, team manager of Veloce Racing, both male drivers add great experience to the team.
"We are delighted to announce Stéphane as our male driver for the first season of Extreme E and to confirm Lance's reserve and development role within the team. Both of them tested with us at MotorLand Aragón last month, and to be honest, they gave us a real headache in terms of who to choose. Since we didn't want to lose either, in the end, we decided to sign them both.
"Stéphane and Lance worked extremely well with Jamie and Veloce's engineering team at our recent test in Spain, and their different skillsets and experience complemented each other perfectly. Lance is well accustomed to vehicles like the ODYSSEY 21 from his cross-country racing and has a very well developed mechanical understanding, so he will be able to provide valuable input for the team."
Lance's first drive of Veloce Racing's ODYSSEY 21 electric car happened at a private test with Veloce Racing in France, however the beast was only given half of it's power potential at the test.
"In France, Jamie and I, along with the rest of the team, had three full days to meet each other and get to know the car. It was a half-power test, but we played with every setting we could just to learn the car and understand everything it does," Woolridge explains. "Ian Davies and team engineer Frederic Guyot really shone through here with great leadership and experience.
In December 2020 Woolridge joined the team in Aragon, Spain for a full-power test.
"The Spain test was the first time we drove the car with full power, and with all the other teams and drivers present, it was the first chance for us to see where we are regarding performance and setup. We learnt a lot more from this test and it's all in the thinking pot now as we work hard ahead of the first race which will be in Saudi Arabia in April," he adds.
"The car is really fantastic. The instant power and torque are mind-blowing," Woolridge reveals. "With it being fully electric with no link between the front and rear axles, there is so much to play with, from the torque distribution mappings between front and rear axles to the steering sensitivity, lateral G percentage adjustments to find more grip, and the usual pedal sensitivity maps."
"The plan is for me to be at all the races this year to provide input and learn, while ensuring that I am ready to slot into the race seat should the need arise. I'm really looking forward to being part of this pioneering journey with Veloce Racing and Extreme E and travelling to these amazing locations – specifically Saudi Arabia which currently hosts the Dakar Rally, as well as Dakar in Senegal where the Dakar Rally began, the remote regions of Greenland, the Amazon rainforest in Brazil and Patagonia in Argentina."
READ: Electric off-road racing: Extreme E
Ian Davies is confident in the team's future adding "both guys were quick out-of-the-box in Spain, and we believe both will bring a great deal to Veloce Racing as we aim to hit the ground running in Saudi Arabia. We are confident that with Jamie and Stéphane driving and Lance working hard behind-the-scenes, we have a very strong team indeed."
Lance Woolridge will continue competing in the South African Cross Country Series (SACCS) in 2021 for the Neil Woolridge Motorsport team, which is backed by Ford South Africa and Ford Performance. He will debut the cutting-edge, all-new Ford Ranger developed by the NWM team to compete in the premier FIA-class.
EXTREME.E DATES
The dates have changed somewhat to what was originally reported, the new dates and locations for each race are as follows:
3-4 April 2021
AlUla, Saudi Arabia
29-30 May 2021
Dakar, Senegal
28-29 August 2021
Kangerlussuaq, Greenland
23-24 October 2021
Para, Brazil
11-12 December 2021
Tierra Del Fuego, Argentina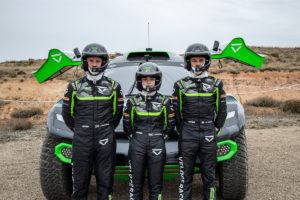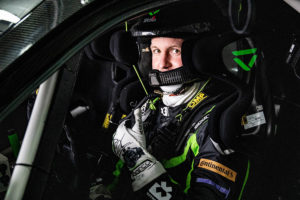 Images: Neil Woolridge Motorsport
-END-