Suzuki SA has just launched the latest addition to the Vitara line-up, the Brezza.
While the Vitara Brezza may be new to South Africa, it's been around since 2016, holding the title of being India's best selling compact SUV, and the fastest car to mark 500 000 sales in just 37 months on the showroom floor. Why did we wait so long to get the Brezza? It's a matter of timing and engine options. The Indian built Brezza only had a diesel engine, when it was given a facelift in 2020 it gained a petrol engine which is compatible with our fuel quality – et voila!, we have the Brezza.
IS IT A VITARA?
Yes, and no.
Yes, it's sold as part of the Vitara family and shares the Suzuki genealogy in terms of styling details and looks.
No, it's not based on the Vitara platform; it is based on a similar smaller modular platform.
The Vitara is 18cm longer, offers either a 1.6-litre naturally aspirated or 1.4-litre turbocharged engine, has a few more airbags and more power. The Brezza will be slotting in as the opening gambit in the Vitara line-up.
VITARA OPTIONS GET BREZZA
The Vitara Brezza is offered with a single power unit across the model specifications, a 1.5-litre naturally aspirated engine that will return 77 kW and 138 Nm. Not blow your socks off kind of power, though if you want more then look at the Vitara, more power more money folks. Spec lines for the Brezza are the GL, and the GLX, both available with either a manual or automatic gearbox. The manual is a 5-speed and the automatic is a 4-speed. "Hello, 1994? Suzuki has your gearbox". Look, there is definitely a raised eyebrow about the auto, though it's not something we can comment on further as the Brezza was a virtual launch. And it comes back to affordability, more gears in the auto means more money, and then the Vitara is your model.
BREZZA GRAVEL TRAVEL
A trump card (not that dude) that the Brezza holds over the bigger sibling Vitara is ground clearance. The standard Vitara offers 185mm ground clearance, and the Brezza has 198mm, perfect for potholes, flooded roads, and gravel travel. Just don't go overboard with those ground clearance notions, as there's no all-wheel-drive/4×4 features on the Brezza, all power goes to the front-wheels. Suspension is McPherson Strut up at the front and torsion beam at the rear which is more than capable of handling our varying road conditions.
Both the GL and GLX models are shod with 16-inch tyres, the GL tyres are 205mm wide and rims are steelies with hubcaps, the GLX upgrades to 215mm and alloy rims.
BREZZA SAFE THAN SORRY
Indian built cars tend to have a lack of safety features, the Brezza is not one of these cars. The Brezza scored a 4-star safety rating for adults in the Global NCAP testing. Key active safety features include the Total Effective Control Technology (TECT) body structure, anti-lock braking system, front passenger and driver airbags, and ISOfix child seat anchorage points.
BREZZA STANDARD FEATURES
Well-priced cars generally mean something is missing off the spec-sheet, or the entry-level car gets the base of basics. Standard options are much Brezza including automatic climate control, electric windows for all, rear-park sensors, remote locking, and a 7-inch touchscreen infotainment unit. This latest generation infotainment unit features a rear-park camera, Andriod Auto, Apple CarPlay, vehicle data reporting, Bluetooth, an aux and USB port.
The GLX model gets cruise control, keyless entry, leather interior detailing, and customisable lighting options.
READ: Suzuki Vitara boosted for your pleasure
THE BRIGHTER THE BREZZA
The standard solid colours include Pearl Arctic White, Premium Silver, Granite Grey, and a striking Autumn Orange. The GL spec gets Sizzling Red or Torque Blue.
For the GLX, there's a choice of three bi-tone colour options; Sizzling Red with a Midnight Black roof, Granite Grey with an Autumn Orange roof, and Torque Blue with a Midnight Black roof.
SUZUKI VITARA BREZZA PRICING*
Suzuki SA has thought this one through, if you're in the compact SUV market it seems there is something for every level of budget within the Vitara range.
Vitara Brezza 1.5 GL MT             R244 900
Vitara Brezza 1.5 GL AT              R264 900
Vitara Brezza 1.5 GLX MT          R289 900
Vitara Brezza 1.5 GLX AT            R309 900
*Pricing correct at time of publication, all prices include VAT
The Suzuki Vitara Brezza is standard with 4-year/60 000 km service plan and a 5-year or 200 000 km promotional mechanical warranty. Buyers have the option to upgrade for a small fee from a service plan to a full maintenance plan through the dealership.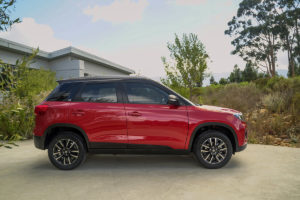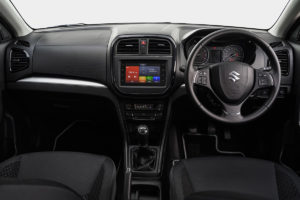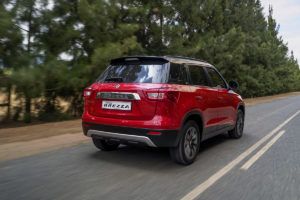 -END-