By Narina Exelby and Mark Eveleigh
What's the one thing you never travel without? It's a question I ask people often because the responses are usually interesting, if not useful (someone's dead uncle's ashes comes to mind). There are a few things on my always-travel-with list (including tea tree oil, charcoal tablets, penknife and a sarong, of course), but perhaps the most important – the one I'll never compromise on – is good-quality luggage. As someone who, for eight years pre-Covid, never spent more than three weeks in one place, it is essential that I carry my world in a bag I can rely on.
Over the past month (and 3000-odd kilometres) I've been testing out K-Way's 100-litre Sherpa Expedition Duffel Bag. The label says it's 'perfect for embarking on long, challenging expeditions, or anything involving high altitudes' – but I've been using it on camping trips in the Eastern Cape, Mpumalanga and Kruger National Park… and it turns out, this bag is pretty perfect for camping, too.
The no-fuss duffel is made from PVC and while I've not hiked with it in the rain, I've been grateful that it is dust-proof and easy to clean. We've travelled plenty of dusty roads lately and, after a wipe down with a damp cloth, the bag is still in good condition. The water-repellent zip on the outer pocket and the waterproof covering over the main zip (which can be padlocked – big bonus) have kept my clothes dust-free, too.
Other features that I've enjoyed are the (removable) backpack straps – it's really convenient to have my hands free to carry other things en-route to the tent – and the compression straps, which allow me to trim the bag down to the size I need. At 60cm x 37cm x 37cm the duffel bag is a decent size and even with all my hefty parker rolled up inside, there is plenty of space for a week's worth of clothes, plus toiletries and computer, too.
One drawback for me is that because I usually wear dark clothes and because the bag is black inside, it's difficult to see what's what and so I tend to rummage around for things in the bag itself. This, however, is where the three inside pockets – one big one zipped into the "lid" – are really useful as they do help me to stay a bit organised. Keys, head torch, beanie, socks – I always know where they are.
I've yet to fly with this bag so it hasn't been put through its paces by the baggage handlers but, as a throw-in-the-back-of-the-bakkie-and-go-camping duffel bag, it definitely comes out tops.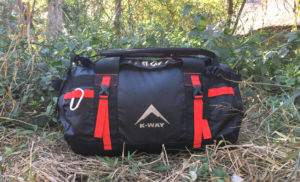 Details: K-Way's 100-litre Sherpa Expedition Duffel Bag is available at Cape Union Mart for R1199.