By Narina Exelby and Mark Eveleigh
Robberg Nature Reserve, the peninsula on the fringe of Plettenberg Bay, is 3.7 kilometres long and just 760 meters wide – and it's doubtful that there can be such a tiny patch of wilderness anywhere in the country that is so steeped in history and spectacular natural riches.
This beautiful little peninsula – which Bartolomeu Dias called Cabo Talhado (the steep cape) when he sailed past this area in 1490 – is believed to be the site of the first European settlement in what would later become South Africa. In 1630 survivors of the wrecked Sao Gonçalo lived here for about nine months while they built the boat in which they later sailed to safety. If you set off on a blustery day to walk one of Robberg's hiking trails you could be forgiven for thinking that this would be an unforgiving place to settle – but apparently it wasn't always so, because there are several caves and open dwelling sites on the peninsula that are proof of human habitation as far back as 120,000 years ago.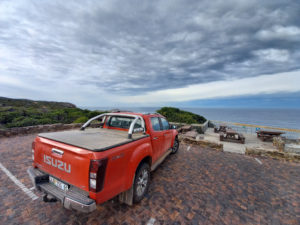 There are three circular, well-maintained walking routes on Robberg (measuring 2.1km, 5.5km and 9.2km), and all lead first along the steep western coastline, then climb up into fynbos and unexpected patches of thicket. You'll likely have your eyes fixed on the horizon for signs of whales or dolphins, but take a chance to focus a little closer since this is the habitat of the rare blue duiker, the smallest antelope found in the Western Cape.
Depending on the wind direction you might smell the Cape fur seals even before you hear their raucous barking. It might seem surprising to see a seal colony – some 4000 strong – clinging to the brutally craggy jumble of sharp rocks on the peninsula's eastern flank when a perfectly smooth beach lies, acres wide, on the western shore… but after centuries of being slaughtered for their skin, meat and oil, the colony – presently numbering up to 4,000 animals – might have chosen these inhospitable, wave-crashed rocks to colonise because the rough seas made them inapproachable to boats. Unfortunately, these rocks are also fatal for cubs which, unable to swim strongly until they are about three months old, are often washed into the water by strong waves.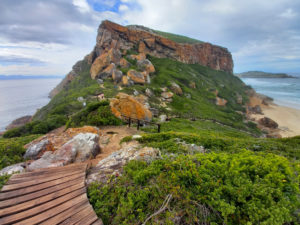 On a clear, sunny day all seems delightfully peaceful on the slopes but at water level this might not be the case; this fascinating peninsula is also known as one of the best places in the world to watch great white sharks from land. A particularly large specimen that is often seen cruising past the seal colony has been nicknamed the 'Robberg Express' by locals.
THE DETAILS Robberg Nature Reserve and Marine Protected Area is a World Heritage Site. It's open from 7am to 8pm from 1 October to 30 April, and from 8am to 6pm from 1 May until 30 September. Entrance is R50 an adult and R30 a child. See the Cape Nature website for more details.