After months spent indoors, a camping trip in the mountains is the best balm for the soul.
As the coronavirus lockdown restrictions eased, I could almost hear the Cederberg mountains shouting my name, and what better vehicle was there to get us there than a new Ford Ranger Raptor? In the days leading up to it, nothing except quality time spent outdoors, camping, rock climbing, hiking, and chatting around a campfire with close friends occupied my mind. I'm sure we were the first guests to check into Kromrivier campsite post lockdown.
It's the dramatic red rocks of the Cederberg, the solitude, the endless starscapes, and total lack of tar roads that make it one of my favourite places in South Africa. It's also only about three hours' drive from Cape Town – in other words, the ideal distance for a long-weekend getaway.
There are essentially two ways into this pristine wilderness area – one that dips in from the north-west, after turning off from the N7, or a sneaky road in from the south, and the one I always prefer.
FORD RANGER RAPTOR
Some might say that the Ranger Raptor is a bit over the top, but there's substance behind that tough facade. The standard-issue 33-inch (285/70R17) BFGoodrich tyres mean business. They're massive, and lend an aesthetic of sure-footedness under the flared wheel arches. Sure, these burly tyres climb a parking-lot pavement like a politician boarding a gravy train, and devour up tar roads – potholed or not – with consummate ease, but it's on the gravel and rough, rocky terrain that they really come into their own. I've tackled the Cederberg countless times in a variety of off-road vehicles, and none of them come close to the off-road prowess of the Raptor. Much of that can be attributed to the tyres, as well as the upgraded suspension boasting 2.5-inch FOX Racing Shocks.
GETTING THERE
My preferred route to Kromrivier had us swinging north out of Ceres, up the R303 through Prince Alfred Hamlet. We took in the view of the lush valley below as we climbed Gydo Pass and then rumbled through the Kouebokkeveld to the tiny dorpie aptly named Op-Die-Berg. I knew things were going our way when I noticed my favourite tractor-shop-come-koffie-winkel was open. For the tastiest milkshakes and mouth-watering (and affordable) toasted sandwiches and treats, be sure to stop at Wonderlik Koffiewinkel en Geskenke.
With humans refuelled, we turned off right a few metres north of Op-Die-Berg. This road soon becomes gravel, and that's when the enticing beauty of the Cederberg really takes hold.
If you're in a capable vehicle (one with good ground clearance and sturdy tyres), hoick a left on to a twee-spoor track about 2.4 km after you've passed Cederberg Oasis Backpackers. This secluded road takes you past the chained-off entrance to the spectacular Cape Nature-managed Truitjieskraal. This is arguably one of the most spectacular settings in South Africa if you're into interesting rock formations, and rock climbing. (Get a permit at the Kromrivier office if you want to explore the area.)
Another 5 km further and we reached Kromrivier, a beautiful working farm that boasts a magnificent campsite, luxurious mountain cabins, and soon-to-be-completed permanent tents on timber decks next to their river – you guessed it, 'Kromrivier'. (The owners tell me that this river has never stopped flowing in the multiple generations that the family has owned the farm.) The river water is also a key ingredient in some of the best beer you'll taste anywhere – yep, it's brewed right here under the NieuwBrew label.
KROMRIVIER CEDERBERG PARK
To keep things real, our early September campout was wonderfully cold – ice-covered our tents and the Ranger Raptor in the morning. But after months spent cooped up indoors, nothing was going to hold us back, and soon we were climbing the newly bolted rock-climbing routes on the koppie that's only a short walk from the farm restaurant.
One of our days was rained out, (meaning quality reading time in our tents), but that made for an even better hike up the valley to the waterfall on our last day, with icy-cold mountain water cascading over the edge into the bubbling river.
You could say I'm more partial to off-road vehicles than most regular folk, but I back my reasoning: They trump conventional cars because of the places they enable you to visit, and the ease with which you can get there. The Ford Raptor is in a special class, highly capable with all of its upgrades, yet more comfortable inside than ever before. The biggest adjustment you'll have to make after buying one is coping with the wide-mouth stares from rubberneckers, whether you're in town, or deep in the wilderness.
READ – OFF-ROAD TEST: 2019 FORD RANGER RAPTOR
Camping
Kromrivier Cederberg Park
Text and images: Mark Samuel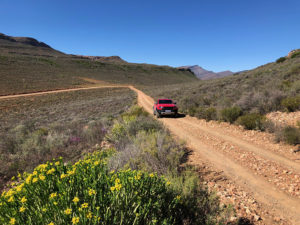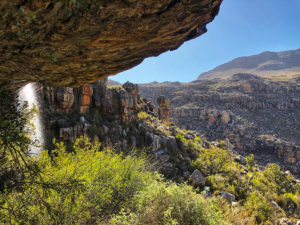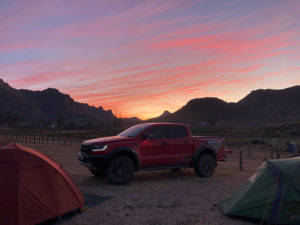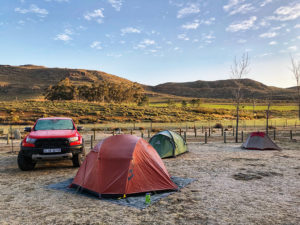 -END-