By Narina Exelby and Mark Eveleigh
At Clive Walker's Waterberg Living Museum, guide Sekhwiri Langa seems to have found ample grist for his fund of knowledge on all aspects of the UNESCO-protected Waterberg Biosphere. We asked him for five surprising about the Waterberg – a place that, despite being only three hours from Pretoria, is one of South Africa's most overlooked and unspoiled destinations.
1/ Waterberg has some of the oldest rocks on the planet
Waterberg is called Thaba Metse in the Pedi language, meaning place of water. The magnificent peaks here – formed 1,800 million years ago by rivers depositing sedimentary sand – stood the test of time as they are chemically resistant to weathering factors. These sedimentary rocks are among the oldest in the world and the reddish oxidation colouring on the rocks was considered the earliest evidence of oxygen in the atmosphere. Because there are now more sophisticated methods of dating, the oldest is now considered to be in Finland (dating back around 2.2 billion years), but the "red beds" of Waterberg are among the three oldest visible oxygen traces on our planet.
2/ There is so much to do in Waterberg
Waterberg is not short of activities, and some of my most unforgettable experiences have been trekking and horse-riding among rhino, roan antelope and giraffe at Ants Hill. There's culture and history in Waterberg too. This is one of the most diverse places in Limpopo province with the traditions and cultures of Pedi, Tswana, Ndebele and Tsonga tribes still going strong. I enjoy guiding people through the Telekishi area, with its late Stone Age San rock paintings and pottery dating back 2000 years.
3/ You can see painted dogs, brown hyena and aardvark
There are world class Big Five venues here – specifically Lapalala, Welgevonden and Marakele – but, for those who want to tick more unusual sightings, many properties offer night drives with a great opportunity for sightings like aardvark, aardwolf, honey baggers, bushbabies, porcupine and caracal. It's one of the best places to see brown hyena and sightings of painted dogs are a real highlight.
4/ Waterberg is great for seeing rhinos
Waterberg has the third largest population of white rhino in South Africa and the area is one of the most innovative and advanced in anti-poaching. Visitors to Welgevonden and Lapalala (both heavily protected by crack anti-poaching units) often joke that rhino are more common than impala.
5/ See rare antelope in the wild
Not many people have seen roan antelope in the wild. In the 1970s there were only about 21 individuals left here but now Waterberg is one of the best places to see free-ranging herds of Africa's second biggest antelope. (The largest is the eland – if you want to be exact the giant eland, also known as Lord Derby eland, found in Central Africa.) You can see wild herds of majestic roan at Ants Nest and at Lapalala, and you're also likely to see the resident habituated herd as you walk between buildings here at Waterberg Living Museum!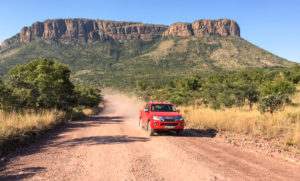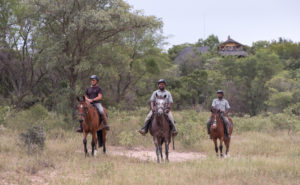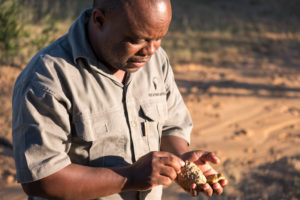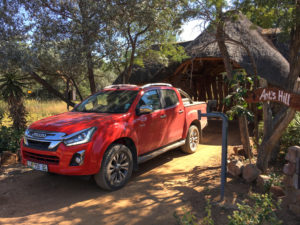 Pictures: Narina Exelby and Mark Eveleigh