By Narina Exelby and Mark Eveleigh
The R36 between Hoedspruit to Ohrigstad is a road of unexpected delights. There's JG Strijdom Tunnel, which is flanked by interesting craft stalls, and the spectacular Abel Erasmus Pass, which winds its way through the Limpopo section of the Drakensberg and acts as a gateway between Lowveld and Highveld. Just after you emerge from the pass (if you're travelling from the Hoedspruit side) and the landscape begins to flatten out, you'll pass through a village called Tshwenyane – and it's here that you'll find Mr Abraham and his roadside nursery.
Mr Abraham worked a long time on the mines, and four years ago moved back to Tshwenyane where, from his neat roadside garden, he grows and sells a variety of plants – from succulents, impala lilies and aloes to lemongrass and cabbages. A look around the small nursery makes for a lovely leg-stretch, and an opportunity to buy a "souvenir" from your journey.
It's also a place where you can get some unusual culinary suggestions.
"I put lemongrass in my coffee – it's very, very nice," suggested Mr Abraham when we looked at his bags of the fragrant herb. "I make my coffee with Ricoffy, water and milk, and then add some pieces of lemongrass. Don't chop it up, just put a stalk into your coffee – try it, it's delicious!"
THE DETAILS
Mr Abraham's nursery is usually open every day, from around 7am to 4pm. If you're travelling from Hoedspruit towards Ohrigstad, the small nursery will be on your right as you drive through Tshwenyane.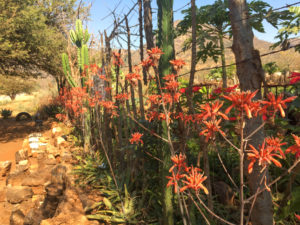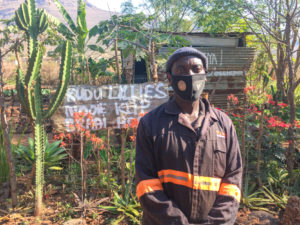 Pictures: Narina Exelby and Mark Eveleigh