By Narina Exelby and Mark Eveleigh
Road-trips are not fuelled on petrol alone – and some of the most memorable road-trip experiences often come from those sudden decisions to pop in for a quick shot of Java. Here are three of our favourite with-a-view coffee stops in the KZN Midlands:
Barn Owl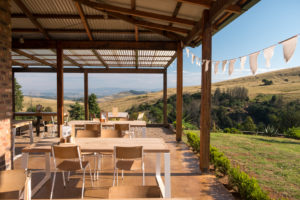 Groundcover (producers of what are widely considered to be South Africa's best veldskoen) have been a fixture of the Midlands for three decades. The Barn Owl café, in a beautifully designed glass and steel building behind the shop, has become a reason to make more regular spins out to Curry's Post. At weekends it's become a popular gathering spot for breakfast or lunch, and on weekdays when it's quieter you could easily spend a couple of hours here, soaking up the view across the field (where horses graze) and over the hills of the Midlands.
The interior and the terrace offer comfortable sofas for lounging and there's a jungle-gym to keep the kids from wriggling. Between caffeine kicks (from the artisanal Bluebird Coffee Roastery) be sure to take a stroll down the hill to the pretty little dam, or even farther along a trail that leads up the flank of the valley.
Where: Curry's Post
Type into Google Maps: The Barn Owl Coffee Midlands
Open: daily 9am to 4pm
VT Coffee Cafe at Lions River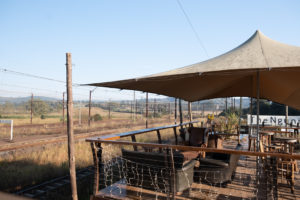 Lions River lies just 1km west of The Capture Site (where Nelson Mandela's 27 years of incarceration began). Traditionally there was little reason to stop here, but these days the buildings around The Platform art hub are stopping wayfarers in their tracks. There's something so irresistibly colourful and curious about the cluster of refurbished railway buildings and artfully repurposed shipping containers that it's almost impossible not to step on the brakes and swerve into the gravel forecourt. You might want to check out The Nguni Guy before you climb the steps to the terrace above the new VT Coffee Café.
Although not the vision or rural peace that you might expect from a Midlands viewpoint, the setting is nevertheless hypnotic. There's a wonderfully privileged feeling that comes with perching on quirky barstools made from wine barrels, sipping cappuccino while busier people zip past on one side and occasional freight-trains clatter past on the other. You feel that life is passing you by. And for just a while you should be more than happy to let it do so.
Where: Lions River
Type into Google Maps: VT Coffee Cafe
Open: daily 9am to 4.30pm
Village (in Howick)
Village has become a favourite meeting place in Howick and the terrace, with views down uMngeni valley (and within earshot of the famous Howick Falls), is an unbeatable spot to meet for coffee or lunch. In essence it's a family style restaurant – and there's a jungle-gym to keep the kids occupied – but it seems that Village is destined to become many things to many people. Certainly it's more than just a café. Upstairs there's a cosy boutique bar (with balcony to take in still more of that view). There's a roaring fire in winter and, equally welcoming, Skeleton Coast IPA on tap. Village is even making a name as a music venue with live performances from local artists.
Where: Howick
Type into Google Maps: Village at Yard 41
Open: Sundays to Thursdays 8am to 4pm; Fridays and Saturdays 8am to 9pm
Pictures: Narina Exelby and Mark Eveleigh