By Narina Exelby and Mark Eveleigh
One of the perks of travelling the back roads from A to B is that you usually give yourself time to enjoy the journey – and that means, of course, stopping frequently. If you choose to bypass the N3 from Harrismith and drive instead on the R74 you'll be treated not only to views of the Drakensberg, but also to the opportunity to stop off at a picnic spot with a lookout point that has vistas across the Sterkfontein Dam. We thought we'd stop here for a leg-stretch… and ended up walking away with a small zoo of handcrafted pottery animals. Christopher and Knowledge are the makers and sellers of quirky animals, crafted from a mixture of cement and clay. They hitch a ride to this lookout spot from their homes near Bergville, and are usually here between 8am and 4pm on days when the weather is good.
HOW TO GET THERE: From the T-junction where the R712 intersects with the R74 near Harrismith, drive about 12km on the R74 with the Sterkfontein Dam on your right; the viewpoint is about 12km down the road.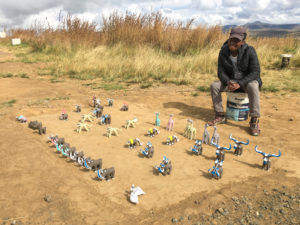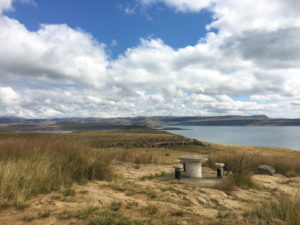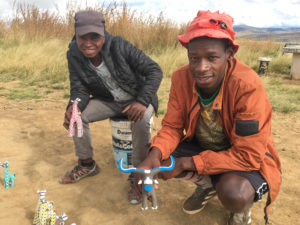 Pictures: Narina Exelby and Mark Eveleigh