By Narina Exelby and Mark Eveleigh
"All people think of when they hear the name Middelburg is mealies and mining," said Megan Pretorius as she scans the veld for blesbok. "I used to think that, too."
But since she moved into the area to work as a guide at Tented Adventures Bezhoek on Bezhoek Private Nature Reserve, close to the outskirts of Middelburg, Megan has fallen in love with a piece of South African wilderness that she, like most of us, had never imagined existed.
Even during the short drive down the gravel road from the reserve gate to the tented camp – past herds of impala, sable, zebra, wildebeest (blue and black) and giraffe – we shared her astonishment… and that was before Megan showed us the local highlights she described as 'Disneyland' and 'Little Serengeti.'
Half an hour after leaving the tented camp Megan eased her vehicle to a stop on the crest of a hill and switched off the engine. In the silence it was hard to believe that we were just 2.5 hours' drive from the clamour of Jo'burg. All we could hear was the soft scrabble of stones as a troop of baboons foraged across a veld spiked with the otherworldly black stumps that are aptly known here as 'baboon tails'. The valley ahead flattened out into a great sweep of savannah, and we could see that 'Little Serengeti' is picturesquely dotted with a few solitary acacias. A small herd of blesbok snorted in alarm and galloped away.
We had unexpectedly rich wildlife sightings on this 5000ha reserve, but there are no elephants, buffalo or rhino and the biggest predators here are leopard (rarely sighted), brown hyena and jackal. With the absence of dangerous game, Bezhoek has become a popular city-escape for people who appreciate an opportunity to walk, run or mountain bike Tented Adventures' well-marked trails out here in the wilderness. (While guides are always available it is possible to explore unaccompanied with just a GPS and walkie-talkie and there's even a 60km route for the most intrepid).
Tucked in the lee of the ridge on the opposite side of Little Serengeti we found the scattered ruins of a few pioneer homesteads and long-abandoned Ndebele kraals. It was easy to imagine that the view here would have changed very little since these houses were built. The ancient cycads on the craggy hill would have been old even when the mud and stone walls were erected for the earliest of those buildings, which date back to around 1600.
Encephalartos middelburgensis, known as the Middelburg Cycad, is perhaps Bezhoek's greatest treasure. It's found only in the Middelburg and Loskop Dam areas and Bezhoek Private Nature Reserve is arguably the best place in the world to see these plants (with one specimen here believed to be 1,200 years old).
It was close to sunset by the time we'd explored the craggy rock wonderland that is nicknamed Disneyland for the bizarre wind-sculpted characters that rose high above the vehicle: a dragon silhouetted against the fiery sky; a weirdly realistic rhino head; livestock and monsters. It was a wonderland of canyons and cliffs that had me expecting so see a silhouetted leopard (not rock but flesh-and-bone) at any moment.
The temperature plummeted with the setting of the sun and we wrapped ourselves in thick blankets and hugged hot-water bottles as we headed back to the lodge, to a dinner of succulent steaks and a night in our luxury tented suite with its (much appreciated) electric blankets.
The highveld nights can be icy but we'd be up around dawn the next morning for a walk. We knew by now that there was a lot to see in the land of mealies and mines. We didn't want to miss a thing.
THE DETAILS Tented Adventures Bezhoek has nine luxurious carpeted safari tents with verandas, en-suite bathrooms, coffee-stations and fridges. Dining is in the main lodge building in the restaurant, adjacent to a swimming pool. Full-board is from R1250 per person per night.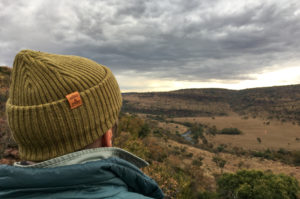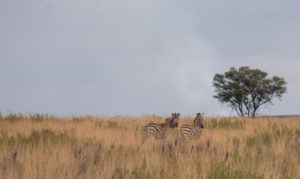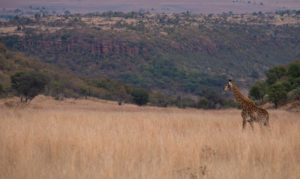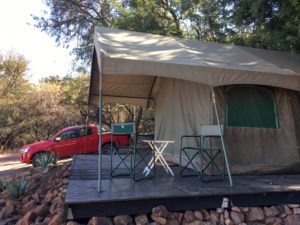 Pictures: Narina Exelby and Mark Eveleigh