By Narina Exelby and Mark Eveleigh
"I fell in love with this spot at first sight," Chris Scorer tells me. It's early morning; we've just left Characters Garden Park and are jogging through the sleepy beach-side streets of Pennington, on KZN's South Coast.
As we run past banana trees, palms, pawpaw trees and bougainvillea, it's easy to see why Chris was so taken by this place… and it's lucky that he was, because Chris bought Characters Garden Park sight-unseen while he was social-distancing in the Caribbean on the superyacht that had been his home for the past few years.
I do my best to mask my surprise…but Chris is quick to point out that he was part of the crew, and not the yacht's owner.
"We travelled around the Mediterranean, Caribbean, Mexico, Panama and Galapagos," says Chris, who is originally from the South Coast. "It was a great experience but sometimes you need to see the world a little to really appreciate what you have back home."
For decades this spot has been a peaceful retreat for tired wanderers. We jog through the gates of Umdoni Park and climb to the edge of the 18-hole golf course, past the big white house that was built as a family home by Louis Botha. Cresting the hill I catch the syrupy scent of molasses carried on the breeze from the sugarcane refinery; pretty blue duiker skitter ahead of us as we run through the trails of the nature reserve that is home to 120 bird species.
Then, finally, we descend onto the beach beside the tidal pool and the historic stone changing rooms that South Africa's first president built to protect the modesty of the womenfolk in his family.
Our run has taken in barely 12 kilometres, but I'm astounded by the diversity of landscapes we've passed through in such a relatively small area. We turn northwards along the beach now, rock-hopping on the weathered caramel slabs that ripple along this part of the coast. They are clearly a wonderful habitat for dassies, and offshore we can see the distant mist-jets of spouting whales. I'd hoped to take a chance to go surfing but the sardine run has lured large numbers of sharks into the bays, so I decide to limit myself to exercise on terra firma.
We cross the old railway line and I arrive back gratefully at the campsite. I've seen enough of this area to be reassured that I, too, will be a regular visitor on this coastline. Next time I will surely get some waves…but for now I feel that I've earned the right to kick back over a bottle of Pennington Pride Smoked Porter – brewed just up the road at Basset Breweries – while I get the coals smouldering on the lunchtime braai.
Chris is possibly thinking of similar simple pleasures. "Who needs a superyacht?" he smiles.
THE DETAILS Characters Garden Park is one of the South Coast's loveliest campsites, and the terraced layout means that most pitches have a wonderful sense of privacy. The site has excellent facilities including a swimming pool, football pitch, volleyball, play area for kids and a games room with table tennis and billiards. It's a two-minute stroll to the beach. For more details visit www.charactersgardenpark.co.za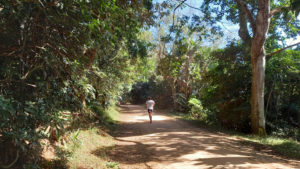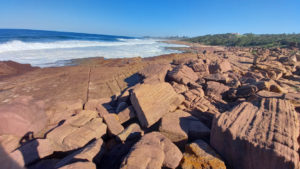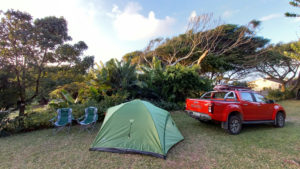 Pictures: Narina Exelby and Mark Eveleigh