by Narina Exelby and Mark Eveleigh
The gravel road twists through an avenue of aloes that are lined up like spiky-headed sentries. I slow the Isuzu D-Max to a crawl as Nguni cattle reluctantly move off the road, and through a gap in the acacia thicket the view opens up to reveal a long mountain floating on the mist above the Tugela River. On the rocky summit a single tall tree stands, straight as a flagpole.
We park where the road ends, at the historic Spionkop Lodge. A century ago Ladysmith-bound wagons would have continued onwards from here, passing right between the old farmhouse (now the lodge's guest rooms) and the old barn. This second building has been extended to accommodate a bar, restaurant and reception area, all of which are decked with photographs portraying the cast of famous characters who played a part in one of South Africa's most poignant battles. Louis Botha, Winston Churchill and Mahatma Gandhi were all involved in the battle that took place here on 24 January 1900 and, as the lodge-owner Raymond Heron points out, it's fascinating to imagine the impact on world history had any of those three participants numbered among the men who died on the blood-soaked mountain across the valley. (Two other stretcher-bearers by the name of Gandhi were among the many who lost their lives on the hilltop that experts describe as the bloodiest acre in military history. It seems likely that the sheer carnage and utter waste of human life he witnessed there must have influenced the legendary leader's subsequent horror of violence).
At the time of the battle Spionkop Lodge was known as Spearman's Farm but today the property is owned by Zambia-born Raymond and his wife Lynette. Raymond is an enthusiastic, knowledgeable and highly entertaining battlefields guide (who not only guides lodge guests but is also available to show drop-in visitors). As a roving Brit – with a long-standing fascination for South Africa – I wish I'd had a chance to sit in on Raymond's rocket-speed crash-course in South African history when I first arrived in the country.
To put the battle into perspective, Raymond took up to the Mount Alice viewpoint, the hilltop on his property from where General Redver Buller and 23-year-old Winston Churchill watched in horror as a British force of 1,700 was routed by a disciplined Boer army of about 600 (made up, Raymond explains, not only of Afrikaans freedom fighters but also of English and Irish rebels, Germans, Dutch and even a handful of Jewish fighters).
The Spionkop battlefield itself is easily accessed from a gravel road (which has tarmac on the upper reaches) that approaches from the northern flank and many visitors are surprised to notice that Jewish graves are the first they pass upon arrival on the summit. Another major surprise is that the little gatehouse houses a display of Liverpool Football Club memorabilia.
This battlefield (and by extension Spionkop Lodge) has become a place of pilgrimage for supporters of Liverpool FC. Since 1906 the terraces at one end of the team's Anfield stadium have been known as The Kop (or 'Kop End') in memory of the many Liverpudlian men and Lancashire lads who'd died on this hill. The battlefield is a poignant place to wander but among the crosses, memorials and mass-graves there's one sight that remains more powerful than ever. From up here I can now see that the fir tree I'd seen from the distance is not as flagpole-straight as it appeared: apparently 121 years of lightning strikes have shattered it into separate trunks, yet it still appears strong and healthy.
"Seven years after the battle," Raymond Heron explained, "an English woman sailed to South Africa to visit the spot where her son died. She'd nursed a cedar tree sapling all the way and miraculously it somehow survived to become the landmark by which many people recognise Spionkop."
HOW TO GET THERE: Spionkop Lodge is just off the R600, outside Winterton – and 14,5km off the N3.
WHAT IT COSTS:
WHAT IT COSTS: Bed and breakfast accommodation at Spion Kop Lodge starts at R790 per person (based on two sharing) or full board is available from R1845. Alternatively, you can rent a self-catering cottage that sleeps four from R2,150 per night. Visit www.spionkop.co.za or email [email protected] for drop-in prices for Raymond's excellent battlefields tour or Spion Kop Reserve game-drives (into an exclusive part of the park that's not accessible to public vehicles).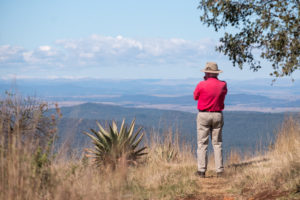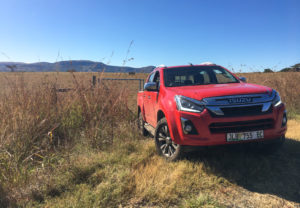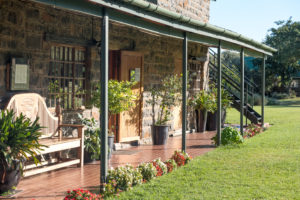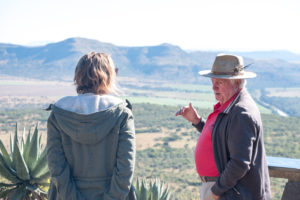 Pictures: Narina Exelby and Mark Eveleigh