There's a new Toyota Hilux on the block.
Well, not exactly new, it's based on the eighth-generation Hilux architecture that was launched in 2016. 2019 brought us the Legend50 model which introduced a refreshed design and updated spec lines, this Hilux builds heavily on the evolution of the Legend name.
While we wait to get our hands on it for testing, here are 10 key details:
1. SHUFFLING THE MODEL LINE-UP
The utility-focused S and SR models stay as they were including the 'old' styling, in the 'mid-range' the long-serving SRX falls away, being replaced by Raider.
"The SRX model has continuously evolved in line with market requests and in turn advanced into traditional Raider territory. We saw this as an opportunity to rationalise the line-up and offer customers more across the board. SRX and Raider have now effectively merged, creating an opportunity for a flagship grade above Raider – and this is precisely what the new Legend grade will offer," says Glenn Crompton, Vice-President of Marketing.
"We've also created three distinctive appearance profiles for the respective core grades. S and SR keep their current design traits, Raider continues with its chrome-accented styling and Legend will offer a distinctive new look aimed specifically at the leisure user," he added.
2. NEW FACE
The latest Toyota Hilux falls in line with the global design-language used on their bakkies. If the new face looks mighty familiar it would be that we saw it on the special-edition Hilux Mako from New Zealand recently. Key changes are the bumper, less chrome more… plastic, and the new slim-line headlights. It looks tough, the question is whether it'll be tough in application.
3. HILUX RAIDER
Raider models get the chrome treatment on the front, and the horizontal slats on the grille. New boomerang-shaped fog lamp bezels and integrated bumper guard round off the design. 2.4 GD-6 models receive an upgrade to four-bulb Halogen headlamps, while 2.8 GD-6 Raider derivatives receive the Bi-LED configuration with stylised internal-light-guides and LED turn-signal lamps.
The side profile remains largely unchanged, with the rear tail lamps moving up to LED light for 2.8 models only. A chrome rear-step bumper and chrome door handles carries the chrome accent styling line.
A new instrument cluster features metallic detailing to create a more premium feel. The 8-inch infotainment system incorporates a floating screen-design while retaining rotary adjustment knobs for ease of use.
4. HILUX LEGEND
The Legend becomes the flagship Hilux model, and as such get's a host of upgrades. It looks tougher owing to black-detailing on the front grille, dark-plated headlamp housing, gunmetal coloured wheel-arches, a graphite coloured bumper and Legend decal. The interior gets the same individualised treatment which includes bespoke styling, dark roof lining and blue-coloured door illumination
The Legend RS package offers a motorised roller shutter, graphite-coloured sports bar, rubberised load-bay liner, assisted tailgate with central-locking function and dust-defence kit.
5. HILUX COLOURS
A total of nine exterior colours are on offer, including the newly-added Oxide Bronze, and Pearl White as a first for the Hilux brand. Attitude Black is exclusively available on 2.8 GD-6 4×4 Legend models (yes, please!)
6. HILUX FOOTWEAR
Raider models return to a 17-inch alloy wheel in Dark Grey metallic finish shod with 265/65 R17 rubber. Legend models get two-tone 18-inch alloys with a darkened centre cap, and 265/60 R18 tyres. The other models retain their existing takkies.
7. HILUX POWER
The 2.8 GD-6 engine has been boosted by 20kW to 150kW, with an additional 50Nm on offer, bringing the figure to 500Nm (in auto transmission guise). This means that it's on par for power with competing brands flagship bakkies.
8. HILUX TOWING ABILITIES
The towing capacity of 2.4 GD-6 4×4 models has been upped by 300kg, now registering 3.5tons and matching that of the 2.8 GD-6 4×4 model. Raised body and 4×4 models have a towing capacity of between 2750 kg and 3500 kg (depending on engine and drivetrain configuration). Not a big surprise as we've seen similar towing upgrade on Australian and New Zealand models.
READ: Toyota Hilux Mako debuts in New Zealand
9. HILUX INFOTAINMENT & WIRELESS CONNECTIVITY
Befitting the increased urban and leisure use, Raider and Legend models get an all-new 8-inch infotainment system with Apple CarPlay and Android Auto functionality. This allows users to mirror applications off their mobile phone for seamless connectivity. Navigation applications such as Google Maps and Waze are natively included and occupants can also access their music libraries and streaming accounts via apps like Apple Music, JOOX, Spotify and SoundCloud. Wireless telephony is supported via Bluetooth with a USB input for additional media options.
All Hilux models are equipped with the Toyota Connect telematics system which includes an in-car Wi-Fi hotspot and complimentary 15Gb data. Managed via the MyToyota App data can be topped up, the Hilux service can be booked, vehicle information and history including tracking data can be viewed, even including the ability to renew your vehicle license online.
10. HILUX SAFETY AND SECURITY
For the first time, the Toyota Safety Sense (TSS) safety system is standard on Legend 4×4 models. TSS integrates a Pre-collision system, Lane Departure Alert and Adaptive Cruise Control – to offer drivers additional peace of mind. TSS joins the existing array of airbags, ISOFIX, seatbelt pre-tensioners and the full suite of active safety aids (ABS, EBD, Brake Assist, VSC, Trailer Sway Control, Traction Control). As before, 4×4 models also include Downhill Assist Control (DAC).
A comprehensive anti-theft system, speed-dependent auto-door lock function and remote or keyless locking functionality is included.
TOYOTA HILUX PRICING
SINGLE CAB
MODEL
PRICE
S
2.7 VVTI RB S 5MT
R 386,700
2.0 VVTi S 5MT
R 291,100
2.0 VVTi S A/C 5MT
R 299,800
2.4 GD S 5MT
R 328,400
2.4 GD S A/C 5MT
R 337,200
SR
2.4 GD-6 RB SR 6MT
R 414,500
2.4 GD-6 4X4 SR 6MT
R 482,000
RAIDER
2.4 GD-6 RB RAIDER 6MT
R 447,800
2.4 GD-6 RB RAIDER 6AT
R 466,100
2.4 GD-6 4X4 RAIDER 6MT
R 520,700
2.4 GD-6 4X4 RAIDER 6AT
R 540,900
2.8 GD-6 RB RAIDER 6AT
R 532,300
2.8 GD-6 4X4 RAIDER 6AT
R 602,400
XTRA CAB
MODEL
PRICE
RAIDER
2.4 GD-6 RB RAIDER 6MT
R 460,000
2.4 GD 6 RB RAIDER 6AT
R 478,200
LEGEND
2.8 GD-6 RB LEGEND 6MT
R 550,000
2.8 GD-6 RB LEGEND 6AT
R 574,900
2.8 GD-6 4×4 LEGEND 6MT
R 622,000
2.8 GD-6 4×4 LEGEND 6AT
R 647,300
DOUBLE CAB
MODEL
PRICE
S
2.7 VVTi RB S 5MT
R 440,400
SR
2.4 GD-6 RB SR 6MT
R 476,900
2.4 GD-6 4X4 SR 6MT
R 549,200
RAIDER
2.4 GD-6 RB RAIDER 6MT
R 505,200
2.4 GD-6 RB RAIDER 6AT
R 521,200
2.4 GD-6 4X4 RAIDER 6MT
R 583,700
2.4 GD-6 4X4 RAIDER 6AT
R 609,500
2.8 GD-6 RB RAIDER 6AT
R 631,900
2.8 GD-6 4X4 RAIDER 6AT
R706,400
LEGEND
2.8 GD-6 RB LEGEND 6MT
TBC
2.8 GD-6 RB LEGEND 6AT
R 696,200
2.8 GD-6 4X4 LEGEND 6MT
R 733,500
2.8 GD-6 4X4 LEGEND 6AT
R 765,600
4.0 V6 4X4 LEGEND 6AT
R 765,200
Warranty and Maintenance
All Hilux models come with a 3-year/100 000 km warranty. A 9-services/90 000 km service plan is standard on all models. Customers can also purchase extended service plans and warranty packages via their Toyota dealer.
You read that correctly, 9 services and not 9 years. Interesting take from Toyota, low mileage driving means you'll be getting a 9-year service plan.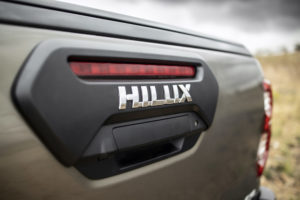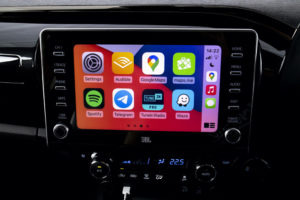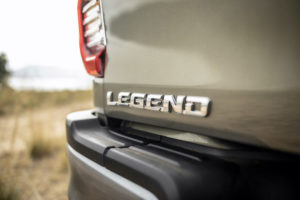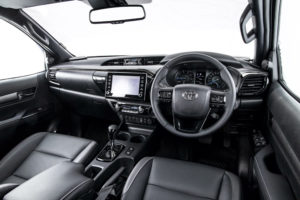 -END-